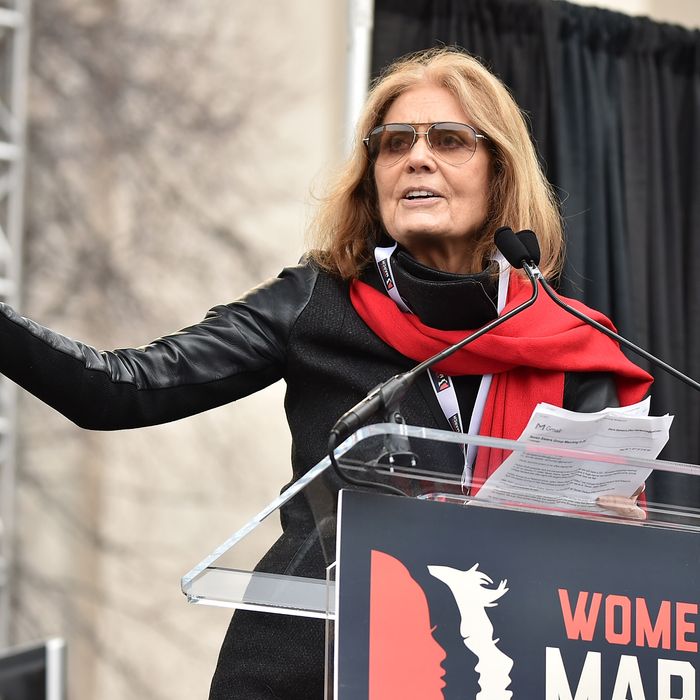 Gloria Steinem speaks onstage during the Women's March on Washington in Washington, D.C.
Photo: Theo Wargo/Getty Images
About halfway through her speech to the hundreds of thousands of people assembled at the Women's March on Washington Saturday, Gloria Steinem started in on Donald Trump.
"Some very experienced doctors of the American Psychiatric Association have publicly written to warn us that, and I quote, 'His widely reported symptoms of mental instability … lead us to question his fitness for the immense responsibility of the office,'" she said. Steinem's choice could be seen as controversial: During the election, psychiatrists got into something of a tug-of-war over whether or not to analyze Trump's mental state, and the APA itself considers diagnosing people from afar "unethical and irresponsible." But Steinem told the Cut that her aim in reading the passage was to highlight just how unusual Trump's circumstances are.

"I read the diagnosis because it's important to recognize that he came up in a unique way: through reality TV," she said. "There's no reality check — he's come up in a tube. Therefore it's important to understand that he doesn't represent [us]." She added, "I think it's dangerous to look up and think he holds all the power. If we look at each other, we understand that's not true."
Understanding that is even more crucial in the weeks and months (and, okay, years) after the march, when Steinem said the "dynamic adventure" of activism will continue. "What's fun about organizing is that [you] can make connections among things that are already there," she said. "And it's infinitely interesting." What sort of connections, you ask?
"Well, they're talking about defunding Planned Parenthood, right?" she said. "[And] we pay income tax, right? We can deduct from our income tax what should go to Planned Parenthood, send it to Planned Parenthood, and say, 'Come get me.' There are more of us than there are of them."
But she was quick to add, "That's just one example. The lives you're living tell you what needs doing. So don't worry so much about what you should do — just do whatever you can."