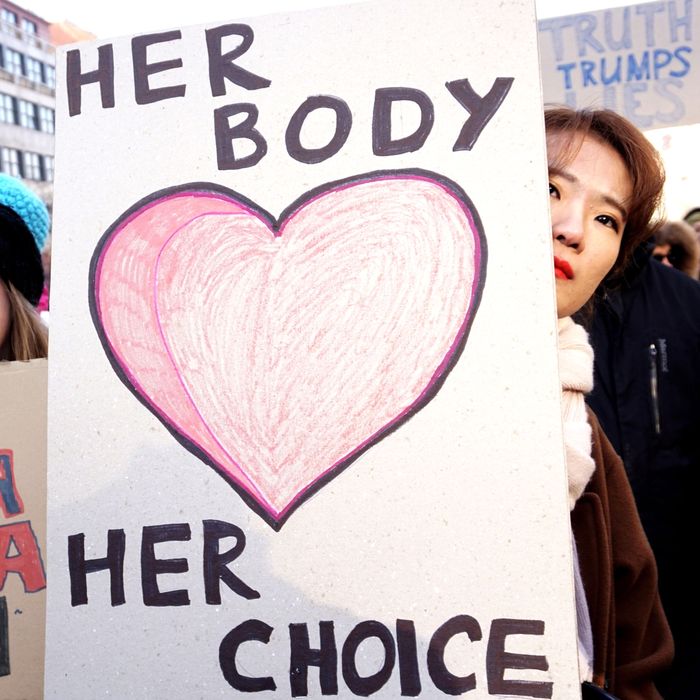 Women are at risk if Roe v. Wade is overturned.
Photo: MICHAL CIZEK/AFP/Getty Images
President Donald Trump has said he hopes to appoint Supreme Court justices who would eventually overturn Roe v. Wade, the pivotal 1973 ruling that legalized abortion in the United States. Now, a new report has found that, if that were to happen, more than 37 million women in 33 states would be at risk of living in an area where abortion would become illegal.
The Center for Reproductive Rights' report "What if Roe Fell?" looked at what would happen to each of the individual states if the decision were to be overturned. The report found that 22 states, largely those in the south and central U.S., could immediately ban abortion within their borders. Also, 11 additional states — as well as Washington, D.C. — are at risk of losing their right to abortion if Roe were overturned. As for the remaining 17 states? Access to abortion should remain secure under current state laws, the report noted.
"We cannot go back to the days before Roe, when some women put their lives on the line when they needed to end a pregnancy. Forcing women to travel thousands of miles across state lines for basic health care in 2017 is not only unconstitutional, it's unconscionable," Nancy Northup, president and CEO of the Center for Reproductive Rights, said in a statement.
The report includes an interactive map so that people can see what would potentially happen to abortion in each and every state if Roe were overturned. For women who either immediately need or may one day need an abortion, understanding their state's abortion laws is vital. To see a comprehensive look at current state laws, click here, and to learn how to protect yourself when researching or planning an abortion, click here.