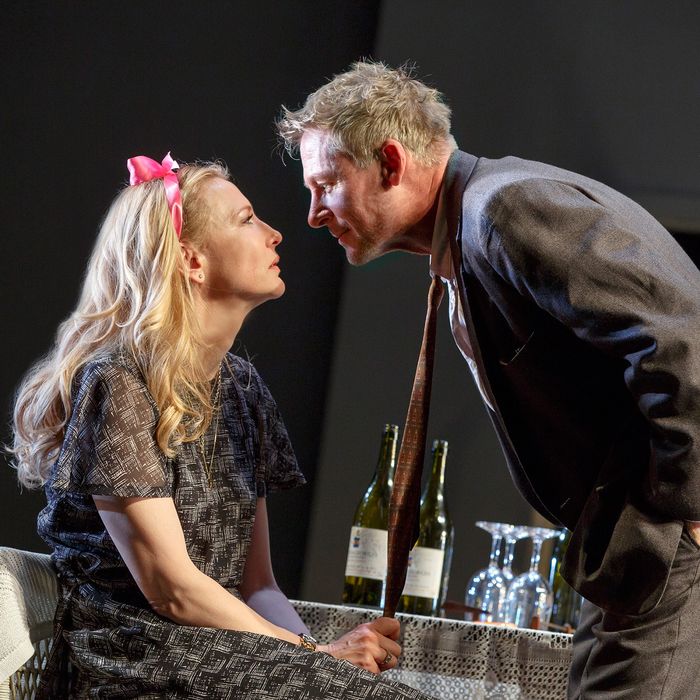 Cate Blanchett and Richard Roxburgh in The Present.
Photo: Joan Marcus
How should you tell a mansplainer you're tired of listening to him? Cate Blanchett, who recently made her Broadway debut, answers this question in a ballsy way in The Present, a modern take on playwright Anton Chekhov's 19th-century drama: Pull a bra-based sleight of hand.
In Act Two, Blanchett's character, Anna, is trapped listening to a male character, who endlessly explains the plot of a film no one else has seen. As he drones on, a visibly bored Blanchett pulls off a move that most women learn sometime after adolescence — the deft removal of a bra, without taking off your shirt. Onstage, Blanchett triumphantly reveals her undergarment to end the conversation, usually eliciting applause from women in the audience. At the show's opening night last Sunday, the Cut ran into Blanchett and her husband, Andrew Upton, and asked her for the story behind the bra trick.
"Andrew's mother always did that at Sunday lunches when she'd kind of just … left the building," Blanchett said. "So it was an homage to her." But did she know that the metaphorical middle-finger to being bored would resonate with so many women? "I was surprised," Blanchett admitted. "I don't even know what it means, but I know that it's right!"
Yes: When you're being talked at, you might as well make yourself comfortable.