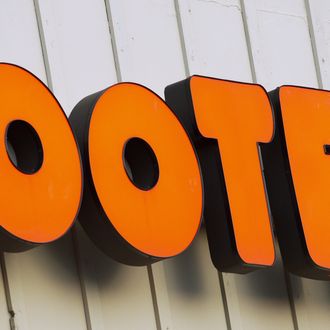 Photo: PAUL J. RICHARDS/AFP/Getty Images
For the man with discerning taste in chicken wings, but who cannot stand the thought of forcing a woman to don clothes that objectify her at the workplace, there is finally a restaurant in which you can feel comfortable. It's called Hoots.
Perhaps recognizing the abundance of men who aren't interested in looking at a woman's chest area until at least the fourth date, beloved "breastaurant" Hooters has a new "fast-casual" chain coming. At Hoots, female and male servers will not wear revealing clothing, and an "abbreviated one-page menu" will get you in and out of there before you can say, uh, Hoot Hoot.
The first Hoots will open in Cicero, Illinois, in February.