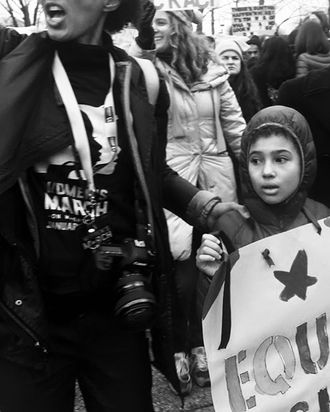 My daughter is growing up in a complicated time.
Photo: Courtesy of Brooke Williams
In early November I drove down to Philadelphia to canvass for Hillary Clinton, full of hope and optimism and a vision of a world with a female president standing smack in the center of it all. Though to be honest, I never thought the election was in the bag. And as I knocked on doors, imploring people to prevent what seemed at that time unthinkable — a Trump presidency, I began to get nervous. But I didn't show it, because I was canvassing with my 9-year-old daughter, Ada, and when I'm rolling with my kid, my primary concern is her physical and emotional well-being.
Driving back to New York, in the gray early morning of November 9 with my husband and my daughter, we were all flattened. I spent half of the time regretting that I'd gotten her so involved, that she actually understood, to a certain extent, what these next four years were going to be like. My Jewish husband was slipping down the rabbit hole of this-is-just-like-Germany-in-1933, and I know enough about history to recognize that this line of thinking is not wholly unfounded. But then the other half of me, the mom-as-cheerleader part, took charge and changed the slant of our conversation in the car from hand-wringing to planning our next steps. If this was going to be a civics lesson, I wanted it to be about the power of activism and democracy — we may not always get what we want, but that doesn't mean our voices can't be heard. As a woman of color, I took strength from the history of the civil-rights movement, and from my own family's struggles and victories — they didn't just throw up their hands and move to a different country, and neither would we. Besides, we had Ada's birthday party to plan, a pet hamster to acquire (after months of begging and a six-page essay on hamster care), and a future to claim ownership of.
So when I got the call to join the Women's March on Washington's social-media team, I started bringing Ada to our organizing meetings. She sat in the corner eating a bagel, watching while women of varied ages, races, and backgrounds threw their differences up on the table instead of pushing them under the rug. As a mixed-race kid, Ada's identity is complex, and I could not have dreamed up a better set of role models for my daughter to learn from. From November to January, preparing for the march with Ada felt more like getting ready for a party than gearing up for a battle, and that's the way I wanted it. We got excited by reading graphic novels about John Lewis (March) and books about female activists and game changers (Rad American Women A–Z); we listened to Martin Luther King speak to junior-high-school students about making a blueprint for our lives; and (for the thousandth time) we located my father's face in photographs of the crowd behind the podium at that other historic March on Washington back in 1963. We chose outfits (all black for me, metallic red leggings for Ada), co-hosted a sign-making party, and helped make a "Prepare-to-March" video.
Then, after two months of planning, the day finally came. The morning of the march we fueled up on bagels and lox we'd brought to D.C., and headed out. There were people in every direction: a sea of pink hats, signs, and smiling faces. I was proud that Ada could see the incredible result of all our hard work — and be a part of it.
Since Saturday, some have criticized the march for being overwhelmingly full of privileged white folks, and voiced concerns over whether the participants' opposition or commitment to change will be sustained. My hope for anyone who protested for the first time this weekend is that they experienced a powerful taste of solidarity — and that they're hooked on activism. From where I was standing, there were people of all races and colors, Native, Asian, black, white, Hispanic, waving signs and chanting and raising their fists into the air. Men spoke about their wives, sisters, and daughters. Women talked about the Supreme Court and about preserving the freedom to decide what happens to their bodies. White people held their fists in the air shouting "Black Lives Matter" to the world. And rather than feeling like a mess, all of these various topics and issues and causes jelled together under one umbrella of intersectionality, one giant call to arms. For Ada, this kind of inclusivity is all she has ever known and the idea of it being threatened makes her nervous. But she's a fighter, and these experiences are becoming an important part of who she is. She is excited for the next big action, but she's also looking forward to the school bake sale this week. She is still a kid, after all.
Being an activist while trying to preserve the beautiful optimism that my 9-year-old carries so gracefully on her shoulders can be difficult … but at the same time I find myself clinging to her positive outlook like a life raft, and I am eternally grateful for it. She is growing up in a complicated time, and we are all just trying to regain our footing and forge a new path for the months and years ahead. But we are awake in a way that too few of us were in the past, and our kids deserve a future full of possibility.