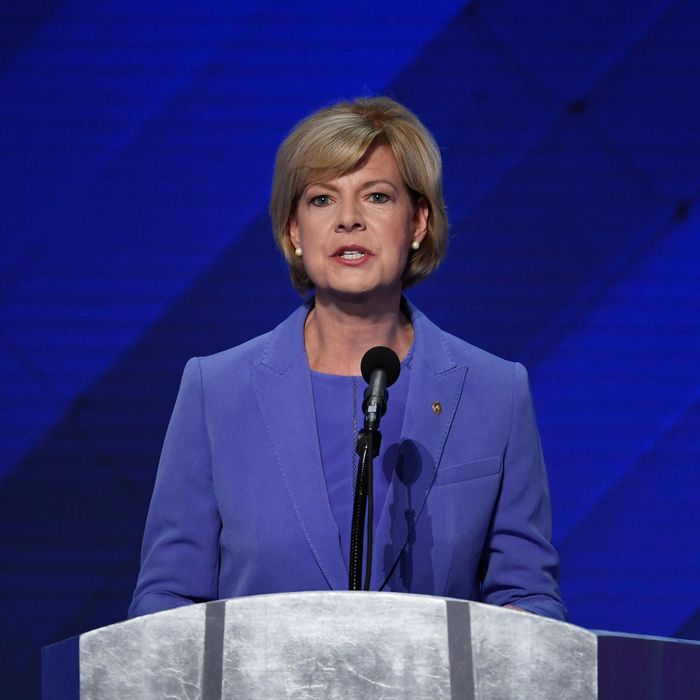 Senator Tammy Baldwin is teaming up with other LGBTQ leaders to fight discrimination under Trump.
Photo: David Paul Morris/Bloomberg via Getty Images
When it comes to LGBTQ equality, Donald Trump is a difficult man to pin down. He's dodged questions about his personal views on same-sex marriage, but has said he's "fine" with the Supreme Court's ruling legalizing it nationwide. He's called North Carolina's House Bill 2 — which requires transgender people to use the bathroom that corresponds with the gender on their birth certificate — "very strong" and has said trans people should be able to "use the bathroom they feel is appropriate." And during his Republican National Convention speech, he promised to protect LGBTQ Americans — albeit from a "hateful foreign ideology" instead of, say, his running mate.
But so far, every single one of his administrative appointments is anti-LGBTQ. Some, like Betsy DeVos, Trump's pick for Education secretary, have simply donated hundreds of thousands of dollars to anti-LGBTQ organizations. But others, like Mike Pence, his vice-president, have supported conversion therapy and signed legislation that sent same-sex couples to jail for simply filling out a marriage application. Which means that, despite Trump's apparent ambiguity on the subject, the lawmakers who support LGBTQ equality are very, very nervous — and for good reason.
"The reality is that we are currently faced with an administration and a Congress that are unfriendly to LGBT people," said Aisha Moodie-Mills, president and CEO of the Gay and Lesbian Victory Institute. "We're not going to wait and see if we get hurt later on — we're absolutely going to meet that head-on." She and other LGBTQ leaders in Washington are piecing together a plan to protect LGBTQ rights in the face of an unfriendly administration, and they see North Carolina — where former governor Pat McCrory was ousted thanks to his bathroom bill, which cost the state almost $400 billion — as a case study.
When McCrory enacted HB2, companies such as PayPal and another "unnamed tech company" canceled their plans to expand in North Carolina. The NBA pulled its all-star game, and the NCAA and the ACC chose to relocate their championship games as well. Bruce Springsteen canceled his concert in the state, as did Ringo Starr and Bryan Adams. In the end, the backlash was a huge blow to the state's economy. And that's something lawmakers care deeply about.
"When you organize a coalition to fight discrimination, some join because they have loved ones who would face that discrimination," said Wisconsin senator Tammy Baldwin. "But others will simply conclude that discrimination is bad for business. And I think if Donald Trump wants to take the same path as Governor McCrory, he's going to face resistance from businesses and families across the country."
Of course, it would be more difficult for Trump to sign something like HB2 on a national level. Instead, Moodie-Mills and Baldwin agreed that the real threat lies in the protections Trump is likely to roll back. The Obama administration issued regulations that protect LGBTQ people from discrimination in things like housing and health coverage, and in 2015 President Obama signed an executive order prohibiting companies that do business with the federal government from discriminating against LGBTQ employees. Baldwin also said it's a "fair prediction" Trump will introduce a federal religious-freedom bill, which gives businesses license to refuse service to LGBTQ Americans based on their religious beliefs.
"Defensive battles will have to be fought wherever efforts to roll back hard-won rights are launched," Baldwin said. "It's not exactly the same [as North Carolina], but I think the reaction is the same: When you offer the opportunity for discrimination, people will reject [it]."
Integrally linked to this notion, Baldwin said, is the idea that LGBTQ visibility will make it more difficult for Trump's administration to act in a way that's detrimental to the LGBTQ community. "I know some folks think it's passé, but the more people know us and love us and go to church with us and dine with us, the more difficult it becomes to tolerate any type of discrimination," she said.
Baldwin's point about visibility also plays out in public opinion polls; based on Gallup polling data, as more people come out to their family, friends, and co-workers over time, the percentage of Americans who say they support same-sex relationships increases. A majority of Americans support same-sex marriage, with a marked increase in the past decade, according to the Pew Research Center. "I don't believe everybody who voted for Trump believes in some of the values his administration is already putting forth," Moodie-Mills said. "I think the folks who voted for him desperately wanted something different, so they were able to turn a blind eye to things that might've made them uncomfortable."
Baldwin said she's encouraged by this trend and hopeful it will continue over time. "I always have to take the long view," she said. "I remember how difficult it was when I first ran for office in the '80s as one of the couple dozen openly gay elected officials in the country. And [look] how far we've come."