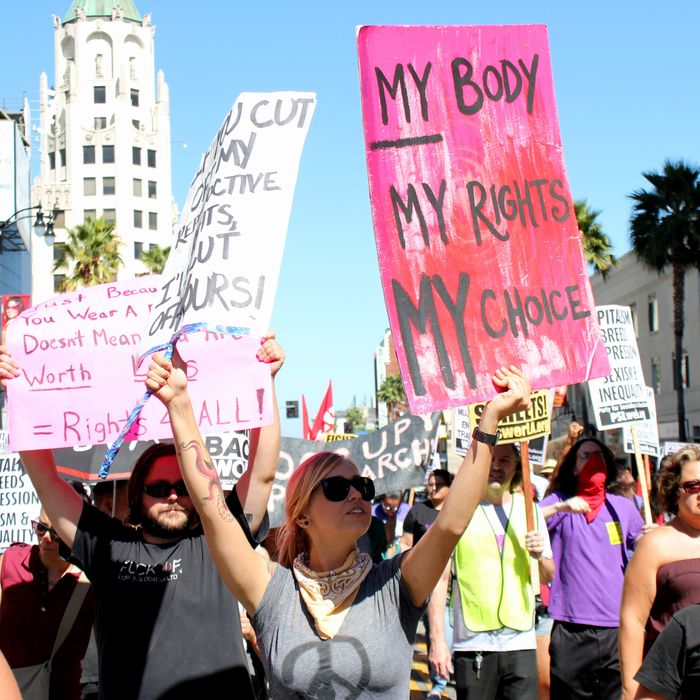 Women march in Hollywood, California.
Photo: Louis Carr/Getty Images
As many as 200,000 women (and men) are expected to march on Washington, D.C., the day after President-elect Donald Trump is inaugurated. But before they can protest, all participants will have to find a way to get to the capital. The New York City chapter of the Women's March on Washington organized a fleet of buses to transport women from New York to D.C., but those sold out fast, and — especially for those of us living in urban areas — driving isn't always an option.
Luckily there are still plenty of transportation options available. Before you resort to hitchhiking across the country with your picket sign, here are a few to consider.
Take the train. If you live in New York, there are still some Amtrak tickets available from New York City to Washington, D.C. for the weekend of January 20. A round-trip ticket will set you back at least $150, but the three-hour trip will take you to straight to Union Station, which is only a few blocks from the National Mall. Amtrak also services 48 of the 50 states (plus four Canadian provinces), which makes it a viable option for those coming from as far away as Austin, Texas, or Anaheim, California.
Take a bus. Companies like Megabus and Greyhound serve the entire country, and if you're on the East Coast, BoltBus is an option, too. As with Amtrak, there are still a few BoltBus tickets available from New York City to Washington, D.C., but they're going fast. If you're traveling from New York, tickets to D.C. on most bus lines go for about $40, but the trip tends to take a little longer — about four hours.
Rent a bus. Get a bunch of people together and charter yourselves a bus. You can do this through companies such as Greyhound, U.S Coachways, or any other local bus company that will let you and a couple dozen of your closest friends rent one of their vehicles. Most come with drivers, so don't forget to factor in the cost of a tip. If this seems like a viable option for you, do a quick Google search for bus companies that service your area — many have online forms you can fill out to get a quote. And if that doesn't work, call. Just make sure you have enough people to balance out the cost; most charters are somewhere in the $2,000 to $3,000 range.
Share a bus. You can use a service like Skedaddle, a ride-sharing app that's offering dozens of trips from cities across the country to D.C. on inauguration weekend. You can also find state-by-state bus-sharing information on the Women's March website — just click on your state and contact the coordinators there to figure out what your options are.
Join a sponsored trip. There are also dozens of groups across the country sponsoring their own buses. The Ripple, a New York–based women's collective, is sponsoring a trip for 100 women. The Louisiana chapter of the Women's March has 42 seats left on its bus. The Michigan Education Association is chartering five buses for the occasion; LatinasInBusiness.us is organizing a trip from New Jersey; and the Alabama chapter of the Women's March is offering transportation scholarships.
Rent a car. Many car-rental companies have special weekend rates, and you can use a website like Kayak to compare rates for multiple companies. If you're traveling from out of state, make sure you rent a car with unlimited mileage so you aren't penalized for driving all the way to the capital. And if you're worried about driving into D.C. on inauguration weekend, park in a commuter lot outside the city and take the metro in instead.
If none of these options are financially or logistically feasible for you, consider attending a march in a city closer to where you live. The Women's March on Washington website has a comprehensive list of affiliated sister marches in states across the country.