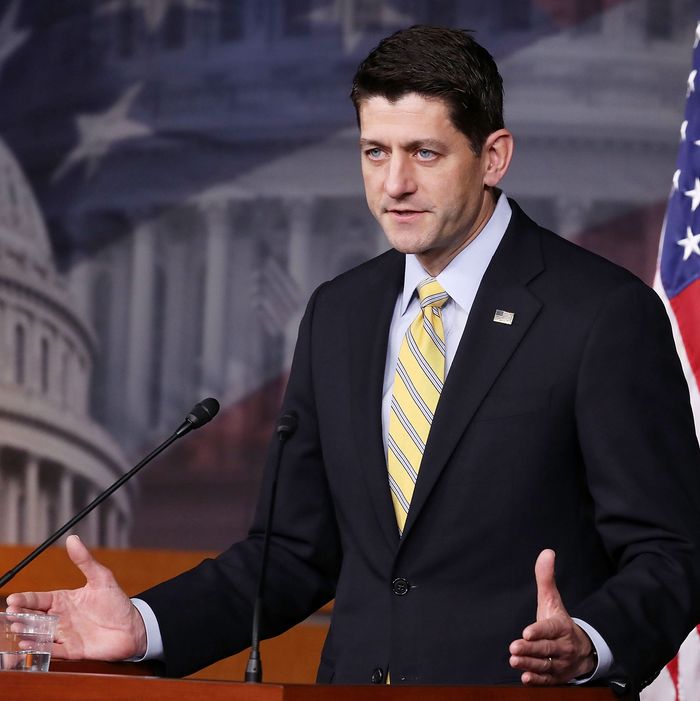 Paul Ryan.
Photo: Mark Wilson/Getty Images
After Paul Ryan officially announced the GOP's plans to defund Planned Parenthood last week, thousands of people responded by calling up the House Speaker to voice their discontent (even if he claimed to be out of the office). Maybe you were one of them. The fact that Planned Parenthood's future is looking less and less certain means it's more important than ever to turn anger into much-needed action. And while calling Paul Ryan is one way of making your voice heard — reproductive-rights advocates say it's not the only one. After you've phoned up the Speaker of the House (click here for his number) and donned your "Fuck Paul Ryan" pin, here is what you can do next to make sure millions of men and women don't lose access to affordable health care.
Spread the word.
Kelly Baden, interim senior director of U.S. policy and advocacy at the Center for Reproductive Rights, told the Cut that the more voices that contribute to the pushback, the better.
"This is an all-hands-on-deck moment, and every voice matters," Baden said over email. "You can call your members of Congress today and tell them to support and protect Planned Parenthood. Gather a group of friends and visit the district offices of your members of Congress — which are in or near your community — and express your support in person."
Call your local representatives.
Local representatives exist to listen to their constituents and fight on behalf of their needs. A list of representatives can be found here, and senators here, searchable by Zip Code. Call them, and Paul Ryan, until you've adequately spoken your part about why it is essential that Planned Parenthood's doors stay open. If you've done that, Baden said, look to your local community leaders next. "Who do you know that can be influential? Your doctor, local business and community leaders, and faith leaders can all stand with Planned Parenthood to continue the drumbeat of support for this critical health-care provider." This includes local politicians, as well. "Ask your mayor or City Council member to publicly support Planned Parenthood and call on Congress to protect it. Mayors like Bill de Blasio have spoken out forcefully — ask yours to do the same," Baden said.
Not a phone person? Use this handy form to write a letter.
At a rally in New York City on Saturday, Planned Parenthood officials shared form letters protesters could use to write their assembly members and senators. Not sure where to start? Here's the letter as it pertains to New York State:
Dear Assembly Member/Senator:
My name is [your name] and I am a constituent in your district. As my representative, I hope that you will stand with Planned Parenthood, the nation's leading sexual and reproductive health care provider.
In the face of federal cuts, New York State must be a leader in ensuring access to sexual and reproductive health care. Every year, Planned Parenthood serves close to 200,000 patients across New York State, providing essential services, including birth control, gynecological care, and HIV and STD testing and treatment. Planned Parenthood provides care no matter what, regarldess of insurance, immigration status, or ability to pay.
As a [woman, person of color, New Yorker, etc.], access to reproductive health care is essential to me and my community.
[Optional personal anecdote]
Please join me in standing up for Planned Parenthood and ensuring that all New Yorkers can receive the care they need to live safe and healthy lives.
Thank you.
Sincerely,
[Your name]
Donate.
And of course, all that aside, donating never hurts. After the election, Planned Parenthood received 40 times its normal amount of donations, and with the imminent fear that the organization will lose $500 million in yearly funding, that's no small feat.