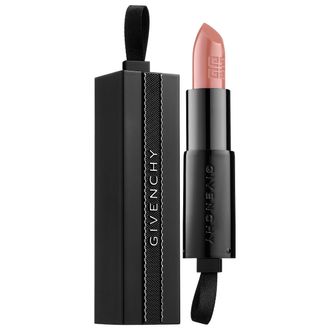 Givenchy Rouge Interdit Satin Lipstick
The trouble with dark lipsticks — aside from the bleeding and smudging over your teeth bit — is that they are remarkably unforgiving toward chapped lips. Every rough nook and dry speck of flesh is magnified tenfold with each swipe of a rich hue. Exfoliating helps, sure, as do fancy lip balms, but the easiest solution lies in Givenchy's Rouge Interdit Satin Lipstick.
The Givenchy standout is called a satin lipstick, though I'm not entirely sure why. It is intensely creamy — so much so that just one layer floats over dry skin, depositing a smooth blanket of pigment that blurs even the slightest hint of chapped lips. What's more, the color stays cemented in place for hours after application. You can apply a gloss over the lipstick for extra shine if you'd like, but I find that the soft glimmer from the oil-infused lipstick is more than enough for a day's work. To top it all off, each Rouge Interdit is packaged in Givenchy's black and silver ribbon-adorned tube. Of course the gods at the French fashion house made this lipstick look chic. Would one expect anything less?
Givenchy Rouge Interdit Satin Lipstick, $34 at Sephora.