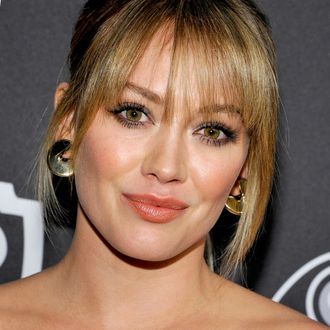 Perez Hilton and Hilary Duff.
Photo: Getty Images
Once the most reviled celebrity gossip blogger of the late 2000s, Perez Hilton, 38, has now changed his tack completely. He no longer draws penises on paparazzi photos of starlets exiting clubs; instead, he leaves rows of heart emoji beneath their Instagram selfies. Regardless of whether he's truly softened or simply found a different way to ingratiate himself with Hollywood actresses, Instagram's new comment-sorting feature makes it easier than ever to watch the new, nicer Perez Hilton at work. Whenever I scroll through my feed, I see him offering heaps of exclamatory praise on every famous gal from Taylor Swift to Bella Thorne. The most blessed recipient of his adulation, however, is erstwhile Lizzie McGuire star Hilary Duff.
The Perez Hilton of 2007 made a crack about Hilary Duff's veneers on his site, but the Perez Hilton of today leaves a positive comment on almost every Instagram she posts. This has added a new element of entertainment for me, a Hilary Duff follower: Not only do I get to see what Duff is up to on a day-to-day basis, I also get to read what Hilton has to say about it. Here are some examples from only the past couple of months. (To surface the comments on your own feed, simply follow Duff and Hilton. Try it, you'll like it!)
When Hilary Duff posted a selfie wearing a red beanie, Perez Hilton commented with four red heart emoji.
When she posted another selfie with the caption, "Guessss whooos excited for the weekendddd!", he chimed in "Me!!"
When Duff listened to the musical sensation the Weeknd and/or tried out some new slang, Hilton approved. "Love the album!!" he commented on her post.
Hilton supports Duff's career successes. On her post about the season finale of her TV Land comedy Younger, he commented, "Happy for you there's another season already to ordered!!"
Hilton also supports Duff's sponsored content. "Cute!!" he cried at her #ad for @GlassesUSA.
Sometimes, Duff simply embodies Hilton's "Mood!"
Other times, Hilton harnesses the power of the universe to cure a common cold. "Sending you healing vibes!!" he commented on Duff's "sick sucks" selfie.
Not every comment makes sense. On this video of Duff standing in an elevator, for example, Hilton offered, "Carrie Bradshaw Duff!" But I'd like to see you come up with a compliment for every single thing Hilary Duff does.
In the end, the most important thing is that Hilton supports Duff unconditionally. Even if she never replies to his comments or comments on his Instagram for a change. Even if she's like, "I don't even read the comments!" Hilton will always be there, with two to three exclamation points, to offer light on Duff's dark days.
"Everything is going to be awesome!" Duff wrote in the sand. "It shall be!!!" Hilton replied in the little comment box below the picture of that. It shall be.