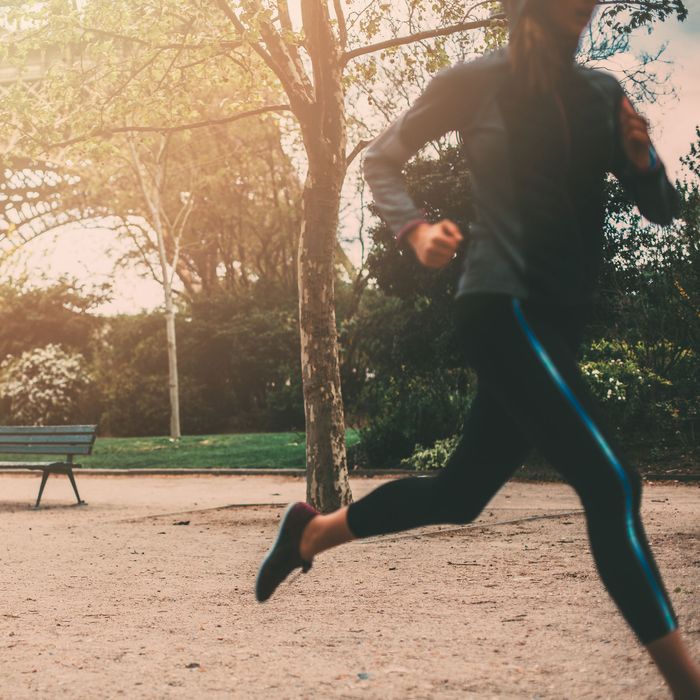 Photo: Todor Tsvetkov/Getty Images
In France, long walks count as exercise, bike rides come with built-in coffee breaks, and spin classes will leave you feeling happy and flushed, instead of near death. Which is why the concept of a boot camp, especially one that's strikingly similar to the notoriously difficult Barry's Bootcamp, sounds doomed to fail in a city like Paris.
And yet one does exist: Midtown Studio. Located near the Champs-Élysées, it was founded 18 months ago by personal trainer Emmanuel Pothier. I discovered it while on vacation recovering from New York and London Fashion Weeks.
My original plan was to sleep a ton and eat my weight in croissants, foie gras, and cheese, but my inner-exercise masochist was begging me to do something more intensive than lifting a wine glass and fork. When I Googled "best workout studios in Paris," a smattering of yoga and Pilates places popped up, but they seemed too easy. The aforementioned joyful spin class was another option, but I wanted to be yelled at, not coddled. Midtown Studio, described by the Parisian press as a torturous New York–style mix of treadmill work and weights, sounded intriguing. Then I saw an Instagram post of a chalkboard that read, "Move Your Fcking Ass," taken at the studio. I was sold.
Here's the thing about a 7 a.m. workout class in Paris: It is absolutely nothing like its equivalent time slot in New York City. Seven a.m classes in NYC are packed affairs, requiring you to sign up at least a week in advance in order to guarantee a spot. Most places recommend you arrive least 15 minutes early, lest some overachiever on the wait list steal your treadmill. With that in mind, I called an Uber to avoid spotty morning Métro service and rushed through the dark streets — only to arrive in front of a gated storefront without a soul in sight. To occupy myself, I took a long, meandering stroll around the block. I required two loops before I saw signs of life. It was 6:55 a.m.
A quick chat with my classmates explained why I arrived to find no one in the gym. It turns out the class was in a brand-new, foreign-to-Paris time slot. With the exception of the eight masochists in the studio with me, people do not wake up before dawn to exercise in France. They were amused by my confusion and seemed to enjoy to warn me about how difficult the class would be. "It's the hardest class in Paris!" chirped a girl clad in a sports bra and leggings. "I almost died the first few weeks!" said an older woman, with a big smile on her face. I had found my people.
Our instructor happened to be the owner, Emmanuel. He told me to call him Manu and showed me into the main room. The dimly lit space featured flattering blue lights, giving the same nightclub effect that's standard for boutique workouts. Four Woodway treadmills, the kind you see at most running-intensive classes, were set against a wall with mats and weights right behind them.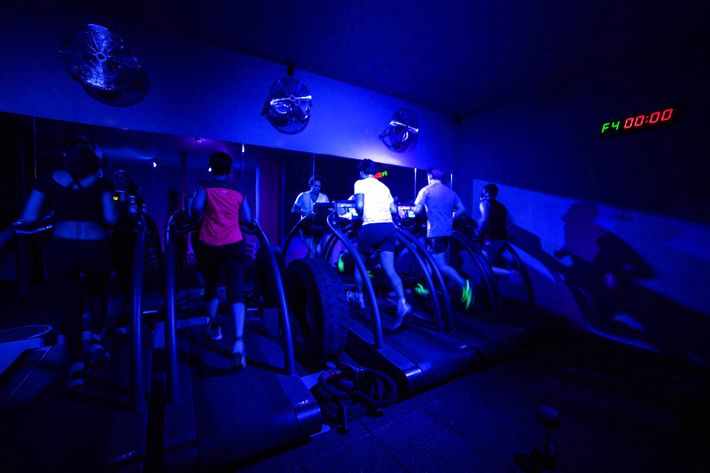 Manu told me that we would alternate between the two for the 45-minute class, so I hopped up onto the treadmill and set it to my usual speed of 7.0. Instead of a panting run, though, this had me doing a light, slow jog, which made me feel like some kind of American superwoman until I looked over and saw my neighbor had started at 12.0. Right: We were in Europe, and these treadmills were measuring kilometers per hour, not miles. Still, for the first time ever, I found that I was somewhere in the middle of the pack, rather than trudging at the back.
The 45 minutes passed quickly. The running portion turned out to be very short — only about ten minutes of the entire class, with just one uphill run and no crazy sprints. There were no secret French calisthenics to be found: Manu had us doing the standard burpees, lunges, and bicycle kicks found at any HIIT class. The only difference was everyone around me groaning and cursing in a different language. It seems like hating burpees is truly universal.
For me, the sign of a truly great workout is that sense of defeat that comes towards the end. I want to feel like I might not survive. But before I could get anywhere close to that place, it was over and I was stretching my legs.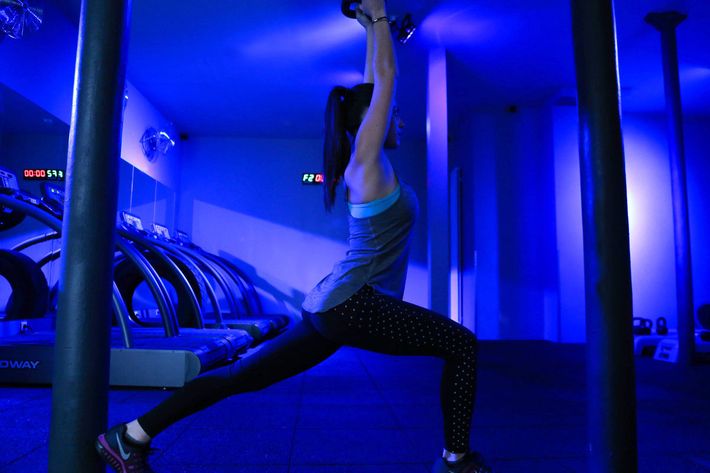 Afterward, the two women who had warned me about the class were dying to chat. One passed me a towel, expecting me to shower. Barely flushed and breathing normally, I threw a sweater over my moderately sweaty sports bra and explained that I was going back to my Airbnb. They looked confused and possibly horrified, so I showed them a few Tone House clips from Instagram where people are pushing sleds and crawling around the floor. That made them confused and definitely horrified.
When I thanked Manu for the class, he explained that it had been slow going at first — Parisians were not into the concept of a high-intensity workout. Even when they came around, his clients come two to three times a week, not daily like obsessive ClassPass users. But attitudes are changing (hence the 7 a.m. time slot) and he's looking to expand to a second location. Would he ever try to incorporate some more intense, Tone House–style training into his classes? Manu burst out laughing and told me I should come by next time I'm in town. Sounds like his clients will be cursing him even more now.