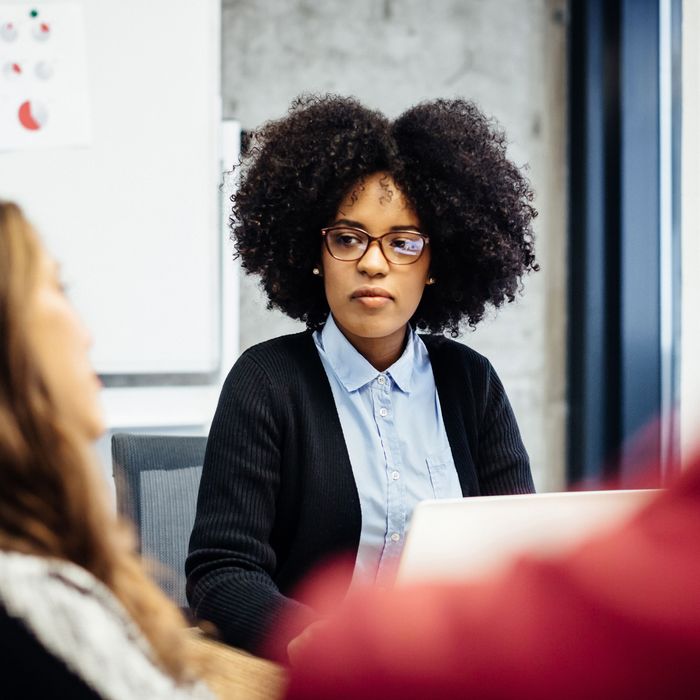 Photo: Hinterhaus Productions/Getty Images
"Who taught you to hate the color of your skin? Who taught you to hate the texture of your hair," Malcolm X asked a predominately black crowd in 1962. Though it was delivered 55 years ago, the famous speech cuts to issues that still live on today. The American attitude toward African-American hair has long been a negative one, and a new study captured just how deep-seated that negativity can be.
"The 'Good Hair' Study: Explicit and Implicit Attitudes Toward Black Women's Hair" employed a modified version of the Implicit Association Test (IAT,) a decades-old racial bias test which, it should be noted, has faced recent scrutiny over its accuracy. Still, this version of the test found that a strong bias against textured hair (or natural black hairstyles) existed within many of the study's 3,475 participants. In other words, textured hair was perceived to be "less beautiful, less sexy/attractive, and less professional than smooth hair."
The majority of participants in the study, regardless of race, demonstrated an implicit bias against black women's textured hair, but white women demonstrated the strongest bias against it. Alternatively, black women who engage within the natural hair community showed more positive implicit and explicit attitudes.
"Many black women will feel affirmed by the Good Hair Study — it is what they have always known and experienced: wearing natural hairstyles has deep political and social implications," wrote Alexis McGill Johnson, the co-founder and executive director of Perception Institute, where the study took place. "Our hope is that those who create the images we see in our daily lives will consider how bias against natural hair can undermine the ability for black women to be their full selves and affect their professional trajectory, social life, and self-esteem."
Other findings show that black women experience higher levels of anxiety in relation to their hair than white women: One in three black women admitted that their hair is the main reason they avoid exercise (compared to one in ten white women), and one in five black women feel social pressure to straighten their hair for work.
The latter finding is a salient one, given the often contentious climate black women with natural hair face in the workplace. Just this fall, a judge ruled it was acceptable to rescind a black woman's job offer because an employer disapproved of her dreadlocks. Every month or so, a child is penalized for wearing natural black hairstyles at school, and in the past, the Army instituted on grooming regulations that banned cornrows, dreadlocks, and twists.
Fortunately, the study also illustrated a glimmer of hope in changing attitudes toward natural hair: Millennials registered black textured hair more positively than all the other participants. You can test your own bias here (when prompted for a code, enter 0).