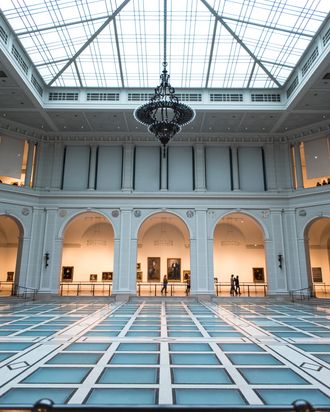 Photo: Courtesy of Creative Commons/Flickr/D. Robert Wolcheck
Donald Trump is going to be president. (Say it with me.) Donald Trump is going to be president. If that makes you want to put your head between your knees and practice deep-breathing exercises, then perhaps on Inauguration Day, instead of gluing your eyeballs to a TV, attend one of the many museums across the U.S. that are opening their doors for free and offering emotionally healing services.
Quartz reports that in New York, the Whitney, the Brooklyn Museum, and the Rubin Museum will all hold special programming on January 20. The Brooklyn Museum will be holding a special marathon reading of the 1935 Langston Hughes poem "Let America Be America Again," and the Rubin Museum will host a yoga and meditation session called "Swear In, Breathe Out." The Whitney will be suggested-donation all day on Friday and will host a "Speak Out on Inauguration Day" event, where artists and writers will gather and speak on their goals for resistance.
With the exception of the National Museum of the American Indian, D.C.'s Smithsonian Museums will stay open (as they have every year since the 1800s) and admission, as always, will be free. The National Museum of African American History and Culture will additionally be hosting the Peace Ball the night before the Inauguration, which will honor the progress made in the four years before Trump's election.
Other institutions are participating in the J20 Strike that called for public institutions to close, but many are interpreting the call to action on their own terms. The Queens Museum will be closed for the day but will hold "an afternoon for the production of signs, posters, banners, and buttons in preparation for upcoming marches and actions."