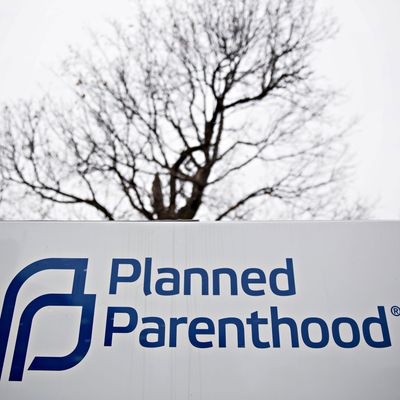 Planned Parenthood.
Photo: Daniel Acker/Bloomberg via Getty Images
Several top Republican lawmakers in Iowa support Governor Terry Branstad's plan to defund Planned Parenthood in the state. Luckily, they've found a bunch of other options for women who could lose their primary health-care provider, including a school nurse, a dentist, and a homeless shelter.
KCCI in Des Moines looked into the "alternative clinics" that legislatures have said they'd be happy to give federal money for reproductive services to instead of Planned Parenthood. State Senator Brad Zaun told KCCI that "there are clinics all over the state of Iowa that provide the same services," and directed them to a list of clinics that could take Planned Parenthood's place.
Per KCCI:
Of the clinics listed in Des Moines, one listed at Scavo Alternative High School is the school's nurse's office. Another clinic listed at 12th St. and University Ave. is a dentist's office. A third clinic listed is the Central Iowa Shelter and Services, which is a homeless shelter. Of those three clinics, none provide reproductive medical care and screenings for women.
Planned Parenthood spokesperson Rachel Lopez told KCCI, "I find it absurd that the governor's office is saying that these organizations can absorb our patients. They simply can't."