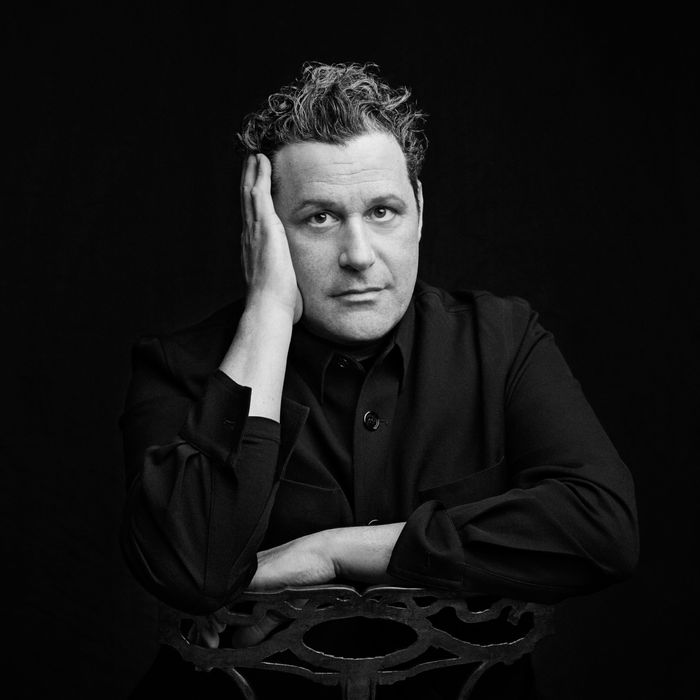 Isaac Mizrahi.
Photo: Jason Frank Rothenberg
"Let's do it again, and I'll try not to suck this time," says Isaac Mizrahi from atop a stool in a sheet-music-strewn rehearsal space on 27th Street, where he's currently holding court with four musicians — oh, and a cymbal on a stand that is standing in for an absent trumpeter. ("It looks like a photo of Edith Piaf in the recording studio," he admits of the disheveled surroundings.) He's just finished a cover of "Bye Bye Blackbird," which is on his set list for "Does This Song Make Me Look Fat?," his show at the Café Carlyle, opening tomorrow night and running through February 11. He's thinking it will make a good closing song, because of the "bye-bye" part.
Also on the docket: the Schoolhouse Rock song "Figure 8," which he describes as "a strange dirge about the multiplication tables," and "Baubles, Bangles, and Beads" from Kismet, a very Mizrahi-like celebration of "sequins and spangles." When not singing, Mizrahi plans to, according to a press release, "tell (mostly true) stories in his quest to be loved by his audiences and re-gift items he's picked up from overzealous fans, business associates, and gala dinner swag bags." He hates to throw things out. His publicist tells me that attendees could expect to nab, say, a reusable tote bag or a phone charger from his trove. Given ticket prices these days, it certainly makes for an added incentive.

If you're more familiar with Mizrahi from his fashion design career, his star turn in Unzipped, or his many appearances on Project Runway: All Stars, you might not know that he is also a seasoned chanteur. In fact, he has taken his act on the road to Joe's Pub, the Laurie Beechman Theater, and City Winery. In the studio, Mizrahi may not be quite as music savvy as his accompanists — he refers to bongo drums as "the shh-shhs" and initiates a lively, if never-settled, debate about the difference between "a tempo" and "atempo." But no matter. Since his childhood days as a makeshift female impersonator, vamping for family members, he has always been a performer. He's got a stage presence that belies his quiet fashion sense — today, he's in black Nikes, a navy shirt, cropped gray trousers, and thick-rimmed glasses. And he is possessed of a distinctive voice that starts in a croon and slides up to a sweet-toned tenor. Occasionally, he adopts a mid-Atlantic accent, like Katharine Hepburn declaiming on TCM, to speak-sing Rex Harrison style, but he can definitely carry a tune.

He has a well-honed rapport with musical director and pianist Ben Waltzer, a longtime collaborator. Mizrahi tells me, "We've been working together since the 20th century." That extends to their Oscar Levant–style banter. When he breaks into "Your Song," he tells Waltzer, "You would play the song better if you were gay."
"What does that have to do with arpeggios?" he counters dryly.

"Ben thinks this is his big break," Mizrahi mock-announces to the room. "He thinks he's going to be Stephen Colbert's sidekick."

Waltzer takes a well-deserved breather, and I ask Mizrahi how he picked the songs. "They picked me," he says. "They all have terrible, mad significance to me. I want the show to have significance." He's even rehearsing some between-show patter. That said, all bets are off come the 8:45 curtain. "The good thing about doing a cabaret show," he says, "is all that gets blown to smithereens."