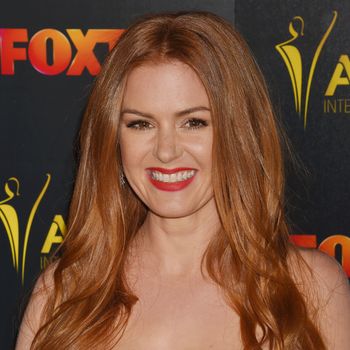 Photo: Jeffrey Mayer/WireImage
It's a running joke that Isla Fisher and Amy Adams are impossible to tell apart, but apparently even Fisher's friends and family occasionally have trouble. It probably doesn't help that Fisher and Adams were cast as versions of the same character this year in Tom Ford's psychological thriller Nocturnal Animals.
Fisher told the Cut that no one mentioned it when she substituted Adams's face for her own on her 2016 holiday card with husband Sacha Baron Cohen and their three children. Not only did "no one even notice," but also "Amy finds it hilarious." How's that for some holiday cheer?
Fisher was on hand Friday night at the AACTA International Awards, commonly referred to as the Australian Oscars, to present the award for best lead actress. As it turned out, the AACTA went to La La Land lead Emma Stone, another Hollywood redhead. Although Fisher and Stone don't share quite the resemblance that Fisher and Adams do, Stone accepted her award by sneaking up behind Fisher onstage. Once Stone reached Fisher, Fisher swung around and grabbed Stone's arms and the two redheads simultaneously shouted, "Surprise!" like they were twinning.
"I was completed surprised, but why I said 'surprise' was because everyone was coming out of their seats from the audience, and Emma just came out from behind me … I really enjoyed it," said Fisher.