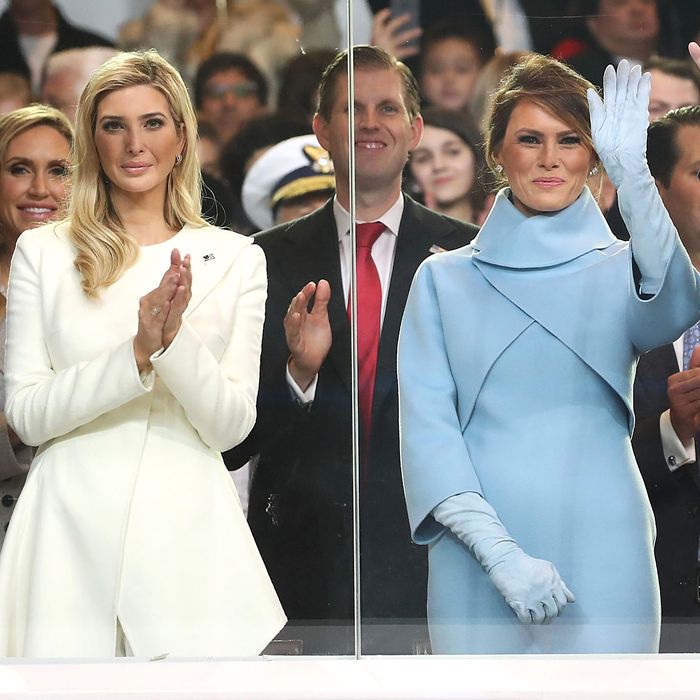 Ivanka and Melania Trump are both more popular than the president.
Photo: Mark Wilson/Getty Images
If the First Family held a popularity contest, the president of the United States would probably lose — and that would drive him nuts. According to a new Politico/Morning Consult poll, voters have more favorable impressions of Ivanka and Melania Trump than they do of Donald. Ivanka is the most popular of the three; 49 percent of voters have a favorable opinion of her, and only 30 percent have an unfavorable view. And the First Lady's favorability ratings are just below her stepdaughter's: 47 percent and 32 percent, respectively.
In addition, more than half of voters polled want Melania to take an active role in Trump's administration, while only 45 percent want Ivanka to step in. At times it seemed likely Ivanka would take a more prominent role than her stepmother in the White House, but she's actively denied her duties will overlap with anything the First Lady does, calling the rumor "inappropriate."
Meanwhile, Donald Trump took office with historically low approval ratings; at the time of writing, Gallup says 46 percent of voters disapprove of his performance, while 45 percent approve. Kyle Dropp, Morning Consult's chief research officer, said Melania and Ivanka are still relative unknowns to voters. "While most have formed their opinion on Donald Trump, about 20 percent of voters still haven't made up their mind about the First Lady and First Daughter," he said. "That leaves open an opportunity for Ivanka and Melania to refine their public personas."
For now, however, Donald is behind them both — but don't tell him.