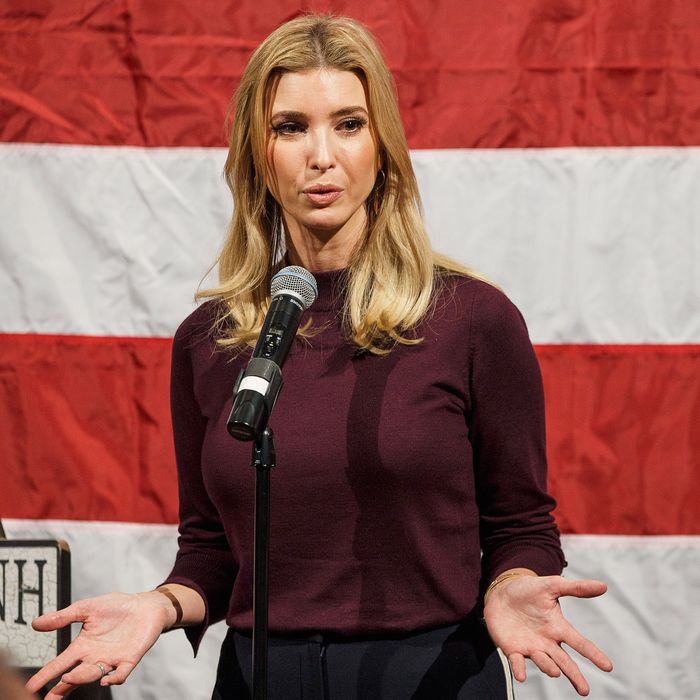 Photo: Boston Globe via Getty Images
Ivanka Trump is already putting her plan to focus on women's rights into high gear, at least in terms of business. The daughter of President-elect Donald Trump hosted a secret dinner party Thursday night at Wendi Murdoch's apartment with a guest list packed full of powerful businesswomen.
Pattie Sellers, executive director of Fortune's Most Powerful Women Summits and live content, gave Fortune the details about the exclusive soirée and Ivanka Trump's efforts to "pick the brains of women who … have expertise in promoting women's economic development."
According to Sellers, the guest list was comprised of "IBM CEO Ginni Rometty, Deloitte CEO Cathy Engelbert, Xerox chairman Ursula Burns, Tory Burch, Mika Brzezinski, Tina Brown, Christy Turlington Burns, Time editor Nancy Gibbs, Ford Foundation president Darren Walker, National Urban League CEO Marc Morial, and Goldman Sachs partner Dina Powell." Powell has been lured away from her gig at Goldman Sachs to work as an assistant to Donald Trump, as well as a "senior counselor for economic initiatives."
Sellers added, "Trump explained that she wanted to learn from the efforts of leaders in their fields. We talked about entrepreneurship, equal pay, paid leave, and a lot about where the Donald Trump Administration may have the most opportunity: education."
Ivanka Trump stated in November that she's committed to fighting for women's rights — at least insofar as economic opportunities go. "Wage equality, child care: These are things that are very important for me. I'm very passionate about education. Really promoting more opportunities for women," she said on 60 Minutes.