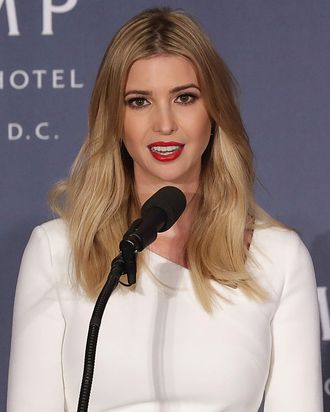 Ivanka Trump.
Photo: Chip Somodevilla/Getty Images
On Monday, it was reported that Ivanka Trump would be stepping down from her fashion label, as well as the Trump Organization. The news came shortly after her husband Jared Kushner was named senior adviser to President-elect Donald Trump; he too will be divesting from his publishing, real estate, and venture-capital holdings.
In a Facebook post on Wednesday afternoon, Ivanka confirmed the news, writing:
When my father takes office as the 45th President of the United States of America, I will take a formal leave of absence from The Trump Organization and my eponymous apparel and accessories brand. I will no longer be involved with the management or operations of either company.

She added, "I plan to take time to settle our three young children into their new home and schools," though it is still yet to be seen if she will be involved in the Trump administration in any official way. Ivanka also reiterated that she is "deeply passionate" about "education and empowerment of women and girls; leveling the playing field for female entrepreneurs and job creators and unleashing the potential of women in the workplace."
In fact, Politico reports that Ivanka has been turning to Dina Powell, a Goldman Sachs partner and the president of the Goldman Sachs foundation, for advice. Powell's in charge of the "10,000 Women" initiative, which supports female entrepreneurs; sources told Politico she is being considered for some sort of potential advisory role.

Read Ivanka's full Facebook post, below: