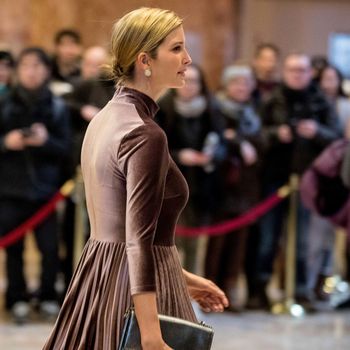 Ivanka Trump.
Photo: Andrew Harnik/AP
There have been reports that Ivanka Trump will be taking on certain First-Lady duties once her father, Donald Trump, becomes president. However, in a new interview with 20/20, Ivanka shot down the rumors, saying that her stepmother Melania will, in fact, be filling that role.
Good Morning America on Thursday aired a clip of Ivanka's Friday interview with Deborah Roberts of 20/20. Just one week prior to the airing, Ivanka had confirmed that she will be stepping down from her fashion label, as well as the Trump Organization.
"It's emotional that I'm stepping away from my business. My father will be president, and hopefully I can be there to support him and to support those causes I've cared about my whole professional career," Ivanka told Roberts.
However, she went on to call the widespread observation that she would be taking over some of the First-Lady duties inappropriate. "There's one First Lady, and she'll do remarkable things," Ivanka said, without elaborating any further.