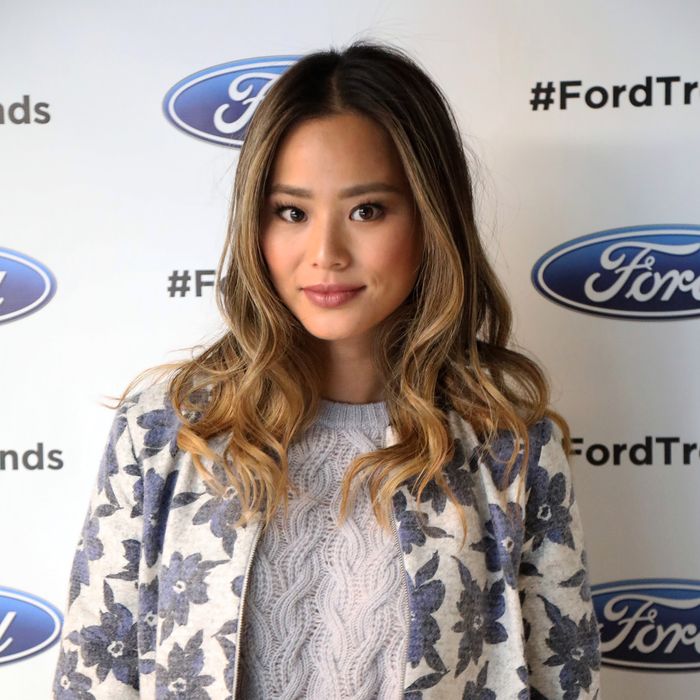 Jamie Chung.
Photo: Ford Motor Company
Actress Jamie Chung lives a bicoastal life, splitting her days between Los Angeles, where she shares a home with actor husband Bryan Greenberg, and New York City. So it's no surprise that the Gotham and Once Upon a Time star (and What the Chung blogger) finds herself constantly on the go and often having to work out in her various hotel rooms. The Cut caught up with Chung at a recent dinner for Ford Motor Co.'s "Looking Further With Ford" trend report, to chat about her favorite fitness apps, meditation, and drinking her vegetables.
Wellness, to me, is: Taking care of your body as well as your mind. It's having a quiet consciousness; being calm mentally as well as physically.
How I sweat: I'm such a ClassPass girl. I've been with it since the beginning — it's just a way for me not to plateau with my workouts. I love checking out new studios and trying new workouts, so I think that's the best fit for me, especially since I'm bouncing around from New York to L.A. It really helps with the city change, and if I'm visiting a new city — like when I'm in Atlanta or I'm back home in San Francisco — it really conforms to my lifestyle, which is always on the go.
I like to mix it up with classes. I like high-interval training classes, so I like Barry's Bootcamp and Sweat Garage. I love Prevail boxing classes, where you're working the bag and you're still doing weights. I love spin at Cycle House as well as FlyWheel. It kind of varies, but I'll also do an active rest day, where I'll do yoga.
How wellness has changed for me: It used to just be working out to look a certain way in my 20s. But in my 30s, it's working out to feel a certain way, to have the release of endorphins, and feel good. It's also something very social for me now. You can take a class on Training Mate, and it's interval training but you go with a friend, so instead of hey, let's meet up and go for a drink or go shopping, it's hey, let's meet up and train or go for a hike. I feel like working out has changed my social relationships, and now it's about being entertained while I'm working out.
My best wellness advice: It's okay to take a day off and just meditate. It's so easy to get stressed out and flustered; you have all this mental energy and it's very negative. I started to meditate a year and a half ago, and I started to calm my mind, and it helps me sort out how to fix a problem and come up with solutions with a clear mind. I think meditation has helped me prevent spontaneous outbursts of anger, truly. My husband [actor Bryan Greenberg] and I do it together — he put me onto it. It's a new thing we do, but it helps both of us and it helps the relationship.
My New Year's resolution: I'm pretty good at keeping my big New Year's resolution, which is always to be good to my mind and my body. Always keeping myself stimulated mentally, as well as physically. It's certainly a lifestyle; I'm not like, I'm going to do three classes in one day. I just know when I'm going to burn myself out. So it's a yearly commitment, but it's for the rest of my life — I want to keep a healthy lifestyle.
The biggest wellness trends today: I've been seeing a surge in retreats, where instead of just going on a vacation with your girlfriends, you can go on a vacation while also having a great workout program. You can go on a yoga retreat in Costa Rica, where you're surfing but you're also waking up and doing yoga, and there's an excellent juice and smoothie bar.
I also feel like there's a lot more meditation apps. I'm on Headspace — it's a meditation app but it guides you through it and breaks down everything for you like, I know you're feeling a certain way and I know you're antsy. It's okay, don't fight it. It's a real guided meditation for someone who doesn't meditate a lot.
My skin-care routine: I use a lot of oils, and I use a lot of products. There are SkinCeuticals products that I use. I love the new oils by Glossier. And I try to stay out of the sun. I'm pretty dry and disgusting so I always have to lather my face. In the winter, my skin-care routine is more oil-, cream-, heavy-based. I use Embryolisse mixed with an oil, like an Argan oil.
On struggling to eat well: I eat the same whether I'm with Bryan or in a party situation or by myself: It's always very carb heavy, it's really rich and it's spicy. I can't cut it out and I never will. I love carbs, and I either have to drink my vegetables or sautée my vegetables. I don't do salads; I don't do any of that. I have to make a conscious decision to eat healthy because if I don't, I just eat crap, really.
My best wellness hacks: If I'm on the go and I can't make it to a ClassPass class, I'll do something called "the 100s," where I do 100 jumping jacks, 100 crunches, and 100 squats — you do all three. It doesn't take up too much time but it just kind of gets you moving. Also, a big shortcut for me is using an app like NTC. It's an app by Nike and they have short routines for you. So if you're looking for a 15-minute full-body or ab routine, they'll guide you through your workout. It's great if you're alone in your hotel room and you don't have anywhere to go, and you're like, I don't have much time, but I need to get this workout going.
What wellness gifts I gave this year: I bought my photographer ten classes to her favorite workout, which is Barry's. So, I sometimes try to either buy people classes or buy them water bottles, because I hate plastic and you can just take a water bottle to class. A jump rope is another great gift.
This interview has been edited and condensed.