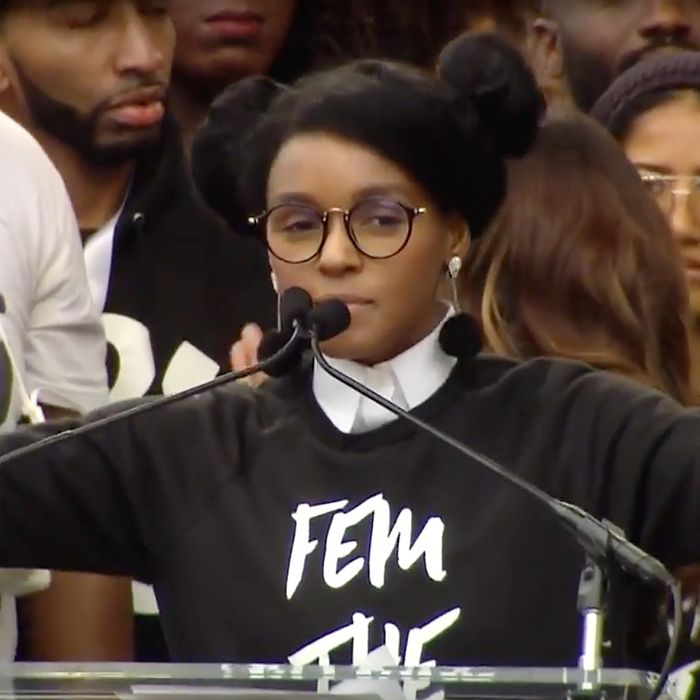 Janelle Monáe.
Photo: Courtesy of The New York Times
Janelle Monáe started her speech at the Women's March on Washington today with a history lesson. "I wanna remind you that it was woman that gave you Dr. Martin Luther King Jr," she said. "It was woman that gave you Malcolm X. And according to the Bible, it was a woman that gave you Jesus." Her "Fem the Future" sweatshirt brought us back to 2017.
Surrounded onstage by the Mothers of the Movement and activists, including #BlackTransLivesMatter co-founder Cherno Biko, Monáe urged everyone to not let the "bullies" get to them. "Continue to embrace the things that make you unique, even if it makes others uncomfortable. You are enough." In a challenge to the rhetoric coming from the right, Monáe continued: "And whenever you feel in doubt, whenever you want to give up, you must always remember to choose freedom over fear."
The crux of Janelle Monáe's speech hit on continuing the fight against police brutality and "the abuse of power," before breaking out in her 2015 protest song "Hell You Talmbout" with Jidenna. She paid tribute to women of color who died in police custody, including Sandra Bland, Natasha McKenna, Tanisha Anderson. The mothers of Jordan Davis, Eric Garner, Mohamed Bah, Trayvon Martin, and Dontre Hamilton led the crowd in a call-and-response chant of their sons' names. Biko closed by naming two trans women killed by police: Mya Hall and Deonna Mason.
And while it's likely too late to make protest signs for today's marches, maybe these lines will inspire future slogans (featuring a reference to Monáe's film Hidden Figures): "Women will be hidden no more. We will not remain hidden figures. We have names. We are complete human beings, and they cannot police us, so get off our areolas. Get off our vaginas."