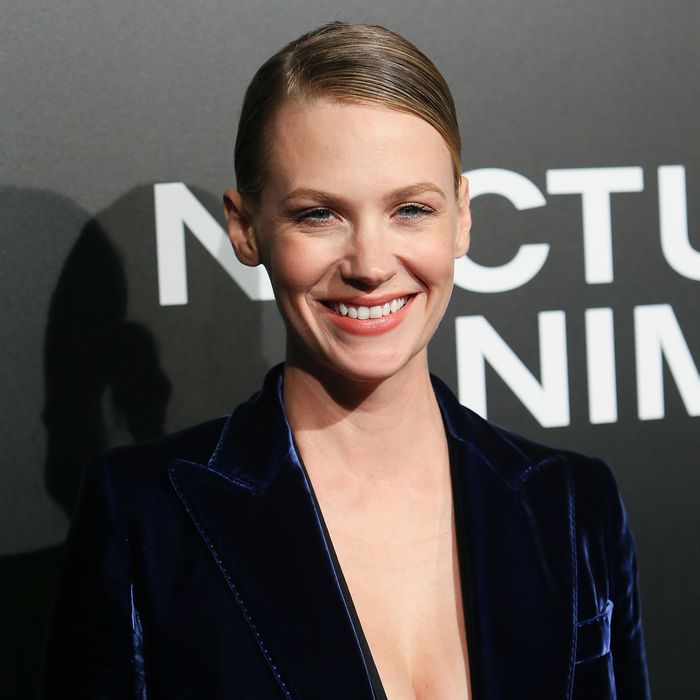 Photo: David Livingston/Getty Images
January Jones continues her reign as our misandrist queen in a new interview with the U.K. magazine Red. Not only has she refused to discuss the identity of her son Xander's biological father, but she prefers to surround him with her badass crew of outspoken, funny, female friends instead of men.
"Maybe I should get a manny soon," she says, a tad concerned. "But Xander has a lot of bro time with the neighbor dads and my dad, who is super young."

"It's good to have strong women around a man," she continues. "To teach him to respect women. He doesn't have a male person in his life saying 'don't cry' or 'you throw like a girl.' All those shitty things dads accidentally do." Her male friends "want to be around him because he's such a fun kid", but she's candid about the fact that she doesn't have a partner.

"People want to set me up all the time and I'm like, 'No way.' If I meet someone and we go out, then fine, but I'm not going to go look … " She makes a puke noise and grins.
She later added:
"Something else would suffer if a relationship came along. Yes, I'm willing to make that sacrifice for the right relationship — I just don't feel I need a partner. Do I want one? Maybe. But I don't feel unhappy or lonely. It would have to be someone so amazing that I would want to make room. Someone who would contribute to my happiness and not take away from it. I realise I have very high expectations and will probably have to compromise — but my life is so full. It's not like, 'Aww, I wish I had a man.' After I had Xander, I went on a couple of dates and I was like, 'I'd rather be at home sleeping, or watching TV or hanging out with my kid."
That's pretty much what she did on New Year's Eve, which is the ultimate "don't give a f*ck" move.