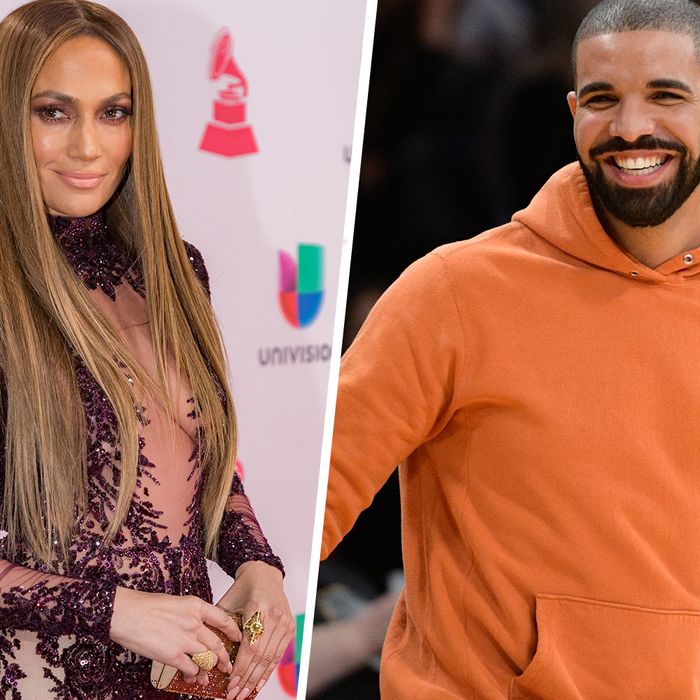 Photo: Christopher Polk/Noel Vasquez/Getty Images/GC Images
In the remaining days of 2016, Jennifer Lopez and Drake were doing everything they could to spur rumors of a possible romance between them. How's 2017 starting off for the pair? More of the same, with the two reportedly spending New Year's Eve together in Las Vegas, according to USA Today. A local news reporter spotted J.Lo at Drake's private table while he performed a concert at Hakkasan.

Drake didn't give a shout-out to J.Lo during his set and the two didn't post photos with each other on social media. Still, sleuthing fans noticed that in photos of the night, she is seen wearing a gold chain that looks awfully much like one previously worn by Drake (something borrowed, perhaps?). Adding to the "this is real" romance rumors, the following day, J.Lo was spotted at MGM with Drake at some high-roller tables, according to TMZ.
The unlikely pair's relationship began to take shape in the public with some not-so-subtle admiration of J.Lo on Drake's Instagram account that then escalated to the two of them sharing photos of some intense snuggling. That was followed by leaked videos and photos of an apparent "prom" the two attended (which may or may not be a music video, but the point is they kissed!). And, finally, let's not forget that there were also the rumors of Jennifer Lopez turning down a $1 million gig on New Year's Eve. Her reps at the time said she was doing it to have some "personal and family time." The rumor mill cited this as code for "Drake." Looks like that was accurate.