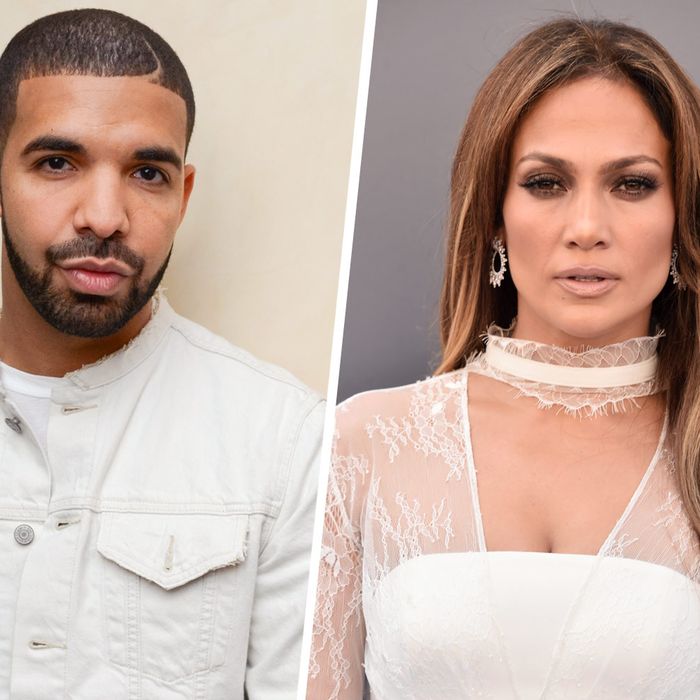 Are they or are they not a thing?
Photo: BFA; Getty
Jennifer Lopez confirmed what was already suspected of her apparent coziness with Drake on social media: The two have done a song together. Though, she's not sure whether anything will come of it. "He just asked me to do a song with him and that's what we've been doing," she told ET, after she was asked about her "project" with Drake. Song or no song, it wasn't a topic J.Lo was ready to dive into. At least, not in an interview meant to promote Shades of Blue. "We'll see if it's on his next album," she added, and then walked away as soon as she was asked directly about the romance rumors. No dice.

Rumors of a relationship between Lopez and Drake have been brewing ever since the end of last year and have only grown as outlets reported that they spent New Year's Eve together. Things have reportedly kept going so well that on Wednesday, a source told People that Drake has even met Lopez's kids. "Drake spends time at Jennifer's house and of course the kids are around," the source told People. This comes as the site also reports that Drake and Lopez were seen arriving to a Los Angeles hot spot for a private dinner.
Still, their rumored budding romance has at times had the inklings of mere publicity. Does Drake throwing J.Lo a prom-themed party sound like his way of wooing her? With the cameras filming? Or was that instead perhaps part of a music video of sorts?

Then again, their fake/not-fake dating habit is starting to get pretty costly if it's all for show.