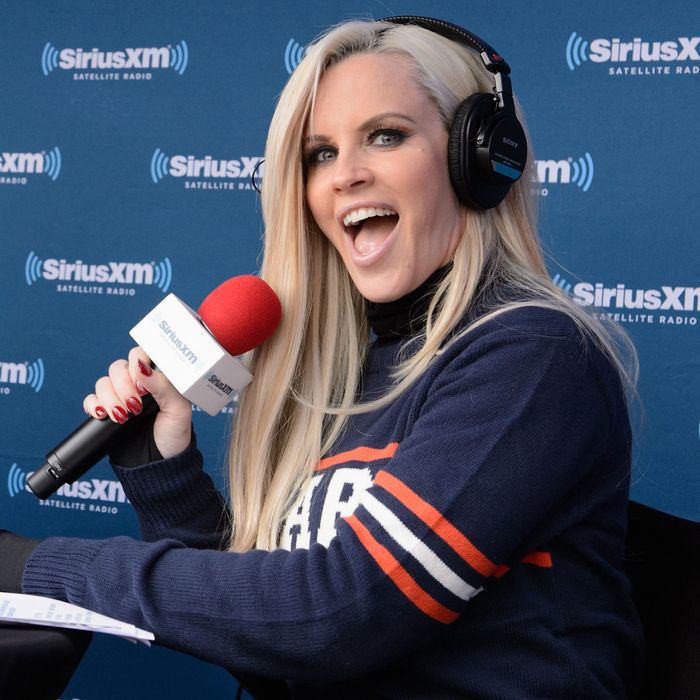 Jenny McCarthy.
Photo: Daniel Boczarski/Getty Images for SiriusXM
A lot has already been made about the fiasco that was Mariah Carey's performance on New Year's Eve. And, though it's been a few days since the incident itself, we're still talking about it thanks in no small part to Mariah herself, who has chimed in once more and admitted to having been "mortified" about the matter. Now, whether or not you buy the fact that Mariah may or may not have dealt with some technical glitches during her set, let us recount the tale of one Jenny McCarthy who really wants to have some sympathy for Mariah, but is not having any of the notorious pop diva's excuses this time around.
On her SiriusXM show, The Jenny McCarthy Show, McCarthy slammed Mariah for her lack of a sound check prior to the show (she reportedly sent in an assistant instead), and said that her sympathy for the pop star ended when she accused Dick Clark Productions of purposefully sabotaging or ignoring her requests for a better ear piece.

I felt really bad for her, because it was that bad. … It was a complete train wreck. And like Donnie [Wahlberg] said, being in this business, I know what it's like to have your prompter go out. I know what it's like to have my inner ears go out. It's scary, and it's like your brain malfunctions and you're on live TV. So I was like, you know what, I have sympathy for her. My sympathy stopped, however, the moment she accused Dick Clark Productions of sabotaging her performance."
McCarthy vehemently voiced her support of the production company, saying that it's built on the premise of having the utmost respect for entertainers and that if Dick Clark were alive today, "He'd be on air right now fighting back." She added that for Mariah "to defame [the production company is] so incredibly insulting for the group of people who work their balls off preparing and rehearsing for their musical guests."

Meanwhile, Mariah seems to be sticking by her story.

Listen to the segment below: