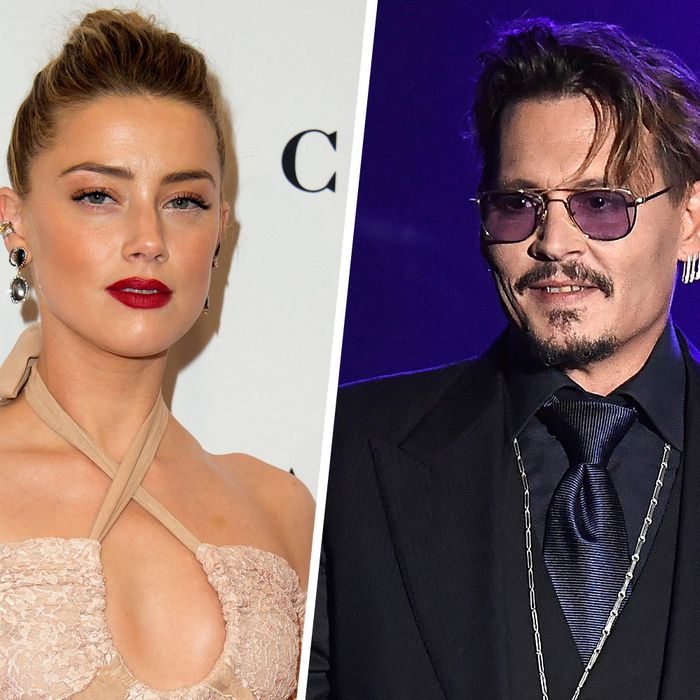 Fighting words between the once-happy couple.
Photo: Getty Images
The last we heard of the ongoing, bitter feuding between Johnny Depp and Amber Heard, was in mid-December. Heard had asked a court to compel Depp to finalize payment on the divorce settlement the two parties agreed to in the fall, following a very public and nasty breakup following allegations of domestic violence. And, as it turns out, Depp ended the year with some not-so-nice words for Heard. In court documents obtained by E! News that were filed in response to Heard's request for payment, Depp's legal team says Heard is merely trying to gain publicity and fame from drawing out the divorce in public.
"Her request is entirely unnecessary under the law and suggests a last-ditch effort to garner media attention and somehow further her public persona by virtue of proximity to Johnny Depp," Depp's response reads. "From the inception of this dissolution Amber has sought to build a case in the court of public opinion." In addition, the documents state that Heard is trying to drum up support in the media after interest has waned. The response continues: "Her application is not only a blatant attempt to extend her fifteen minutes of fame but also a waste of the Court's limited time and resources and an embarrassing grab for addition and unwarranted attorney's fees."

After Heard's initial announcement last year that she'd donate her settlement to charity, Depp reportedly paid an initial amount to the charities instead of Heard and has so far stalled on the remaining $6.7 million. The two are reported to have entered into a confidentiality agreement, but Depp's team hasn't been too happy with Heard following that with a PSA on domestic violence and her open letter to survivors.