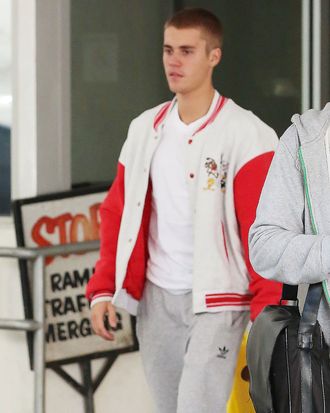 Justin Bieber's haircut.
Photo: Pap Nation / Splash News/Pap Nation / Splash News
Last we checked in with slightly swoll-er pop singer Justin Bieber, he was telling paparazzi that the Weeknd's music is "wack," which surely had nothing to do with his former love Selena Gomez publicly necking with the "Starboy" singer. But here's some good news:
Justin Bieber got a haircut.
To celebrate the departure of what I can only describe as "depression hair," Bieber took himself on a date to the movies on Monday night. TMZ provides us with the full scoop, via a source:
Justin took in the 7 PM showing of "Split" Monday at the iPic Theaters in Westwood. Sources at the theater tell us he came alone, aside from his bodyguards – but they waited outside the theater. Biebs was ushered to his seat, and they kept the one next to him open for privacy.

We're told he ordered off the menu – nachos – but the kitchen whipped some up anyway. He also had 3 Jack & Cokes, plus flatbread and croquettes (on the menu). The makeshift nachos were not a hit. Justin sent them back, we're told.

A real cinephile!
Bieber has a long history of "loving to watch movies." When Bieber and Gomez were still dating, he rented out the Staples Center for the pair alone to watch Titanic. (The Staples Center has a seating capacity of 21,000 people.) Over the summer, Bieber rented out a movie theater in NYC for him and ten of his friends to watch The Secret Life of Pets.