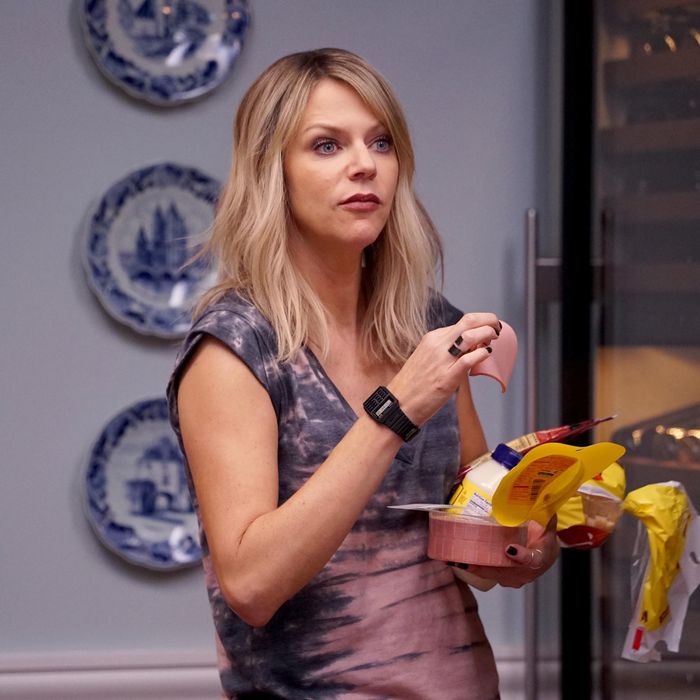 Kaitlin Olson.
Photo: FOX
When Kaitlin Olson was first pitched the role of Dee "Sweet Dee" Reynolds on It's Always Sunny in Philadelphia back in 2004, she turned it down. While the three male leads — played by Charlie Day, Glenn Howerton, and her future husband, Rob McElhenney, who co-wrote and produced the show — were fully fleshed-out, Dee was written as the bland voice of reason to contrast the guys' antics. Eventually, Olson came back to them with a suggestion: Maybe Dee could be funny … too?
"I was like, here's the honest truth: You guys are so talented at writing these ridiculous crazy characters. I would love to do that if you wrote a character like that for me as well," Olson recalls. "I don't just want to be a girl character, the voice of reason. I want to be the crazy one. So if you write something like that for me, I'll do it. And to their credit, they wanted to."
Over the course of It's Always Sunny's 11 seasons (the 12th premieres tomorrow), Olson has gone on to establish herself as one of TV's most brilliant and underappreciated comic talents. Each week, Dee has disgraced, debased, and degraded herself, committing all manner of offenses (adopting a dumpster baby, digging up a dead body, her attempts at "acting") and ingesting all manner of substances (angel dust, crack, MDMA, bath salts, human flesh), while using her long-limbed, Kramer-esque physicality to perform some of the best physical comedy on TV (breaking most of the bones in her body, all the fake-vomiting). In a show about terrible people, Dee was consistently as outrageous as her male co-stars, long before the foul-mouthed female narcissist became a mainstay of TV comedy.
"[Playing the straight woman] really was the landscape for women in comedy then, across the board," she says. "You had Elaine from Seinfeld, who I loved, and is still a big motivator for me, but mostly the women in comedies were the wives or the ones who were like, 'Honey, you're being crazy!'" In breaking that mold, Olson helped pave the way for TV's current crop of unruly women, from Girls to Inside Amy Schumer to Fleabag. "Since then, I've seen a lot of really interesting female comedic characters pop up, and it's awesome," she adds.
Now, after 12 years as Dee Reynolds, Olson is stepping into the shoes of another interesting character: Mickey Murphy, the protagonist of Fox's new sitcom The Mick (which premiered last night, but will air on Tuesdays going forward). Mickey — a deadbeat hustler without a care in the world — is forced to shape up and take care of her rich sister's three spoiled kids after their parents are arrested for some sort of white-collar crime. While we've seen this sort of fish-out-of-water bad-parent premise a million times before, the show is elevated by Olson's performance (and her willingness to suffer grievous bodily harm) as well as her natural chemistry with the three kids, Thomas Barbusca (13), Jack Stanton (8), and Sofia Black D'Elia (25, but playing 17). The Mick also veers into much more risqué territory than your typical network comedy, which was a must for Olson when she agreed to do the show. "Just like in Sunny, sometimes the characters have the opposite beliefs than we do, but that's by design," she said.
While Olson acknowledges the similarities between Mickey and Dee, it was essential for her to make the two characters different from one another. "Dee, everything that motivates her is out of fear of failure and wanting to be accepted and liked," Olson explains. "Mickey is just the opposite. She doesn't care at all what anyone thinks and is perfectly comfortable doing anything she wants at any time." While you probably wouldn't invite either of them to your parents' house for dinner, Olson brings a vulnerability to all her performances that makes us relate to them, even at their worst. "They can be ridiculous but I don't ever want them to go over into cartoon land," she says. "It still has to be a grounded character who believes in the choices she's making. They just happen to be ridiculous choices."
Olson never sought a production credit on It's Always Sunny, but she knew that she wanted to have creative control over the next thing she did. (As she puts it, echoing a common refrain of women in Hollywood: "If the content's not there, you can't complain about it — you've got to create it.") Yet when Sunny veterans Dave Chernin and John Chernin brought her the script for The Mick, she couldn't help falling in love with it. "I didn't want to do somebody else's show. So when I loved it I was like: Oh no! But it was just really good and thought I could make it special." So she went back to them with a proposal: She would do the show, but only if she could produce it. "I didn't want to work for someone else, I wanted it to be my project. And they said absolutely, that's what they wanted."
Above all, it was important for Olson to be able to choose the people she was going to work with. "Coming off a show where we just work so well together and the chemistry really works, I really needed to cast actors … [who could make] the show what I wanted it to be," she explains. That extended to the crew behind-the-scenes. "We have an amazing diverse crew, lots and lots of women, lots of gay women with families, which makes me very proud, lots of female directors, female ADs," she says. "It's really important for me, having a female-driven show, to have a bunch of strong driven women around me."
With The Mick, Olson stands to gain the mainstream recognition that many of her fans feel she has been denied. "I think that as a show, we were underrated, so I kind of felt like I fell into that category," she acknowledges. While her male co-stars have all received attention beyond Sunny, The Mick will be Olson's first real opportunity to introduce herself to a new audience. Yet she also says that keeping a low profile was a conscious choice. "I had two boys, 18 months apart, and they're very competitive for my attention. It was really important for me to be there for the first five years of their lives," she explains. "I only shoot Sunny two months of the year, so I was really like a full-time mom. I have just kind of come out of that, and I think that's why I decided it was okay to take this other show."
No matter what, a part of her heart will always remain inside Paddy's Pub. "I love Dee," she says with a laugh. "I'm pretty sure I'm going to be Golden Girls age and still doing the show. I'll still be working in the bar and nothing will have changed at all."