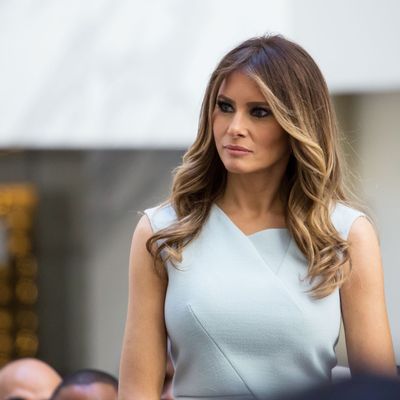 Melania Trump.
Photo: Cheriss May/NurPhoto via Getty Images
While Melania Trump isn't the one being sworn in to the highest office in the land this weekend, she's faced her own growing list of dissenters. Instead of facing a shortfall of musicians and entertainment acts for the inauguration, Melania faces a growing list of fashion designers who have said they won't dress the incoming First Lady. Things might be on the upswing for Melania, though. Women's Wear Daily reports that Karl Lagerfeld, one fashion's most revered designers, is "likely" to dress Melania for the inauguration this weekend.

If so, Lagerfeld would join Ralph Lauren, another one of the fashion gods, who is also reported to be designing a gown and ensemble for Melania to wear to the inauguration festivities. Lauren quietly designed many of Hillary Clinton's most notable looks during the campaign, like the white ensemble she wore when she accepted the Democratic Party's nomination. Melania also showed a liking for Lauren's designs during the campaign, notably wearing one of his jumpsuits on Election Night. At other key moments on the campaign trail, however, she often bypassed designers altogether by opting to buy dresses online. For instance, the white bell-sleeved dress she wore when she gave the infamous speech that eerily echoed one by Michelle Obama wasn't a designer custom. It was one she ordered on Net-a-Porter.

As WWD points out, what brand Lagerfeld is designing under is anyone's guess. The only other clue about the possible design comes down to whether it's a day or evening look, and considering that Lauren is known more for his polished ensembles, there's a good chance that Lagerfeld is working on a night look.
Regardless of the final designs, though, having two powerhouse designers dressing Melania might do much to shift the conversation about how the fashion industry reacts in the future to the Trump presidency.