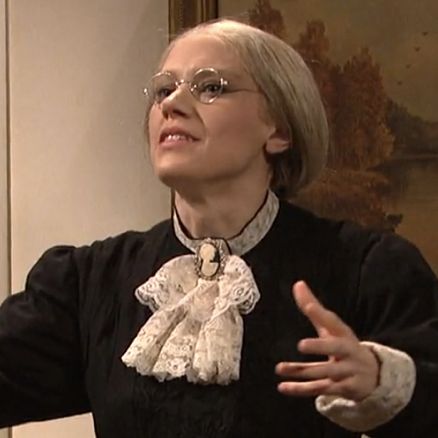 Photo: Saturday Night Live/NBC/YouTube
What's not to like about meeting the ghost of Susan B. Anthony? As it turns out, quite a lot. In this Saturday Night Live sketch, Kate McKinnon channels the legendary suffragette who appears as a ghost to a group of women touring her historical home.
Felicity Jones, Vanessa Bayer, Cecily Strong, Aidy Bryant, and Melissa Villaseñor play the women who conjure up Anthony by saying her name three times while holding hands.
"We just want to thank you! It's kind of a hard time for women right now," Jones's character says, "But you give us hope." As it turns out, as thirsty as Anthony is for company, the women themselves are pretty self-absorbed and unpleasant. They're more interested in finding cabs and maybe a burger before catching a train than listening to what Anthony has to say.
As the gals hustle to escape the needy ghost, Anthony reminds us just how fallible our heroes can be. "Also, abortion is murder!" she calls after them.