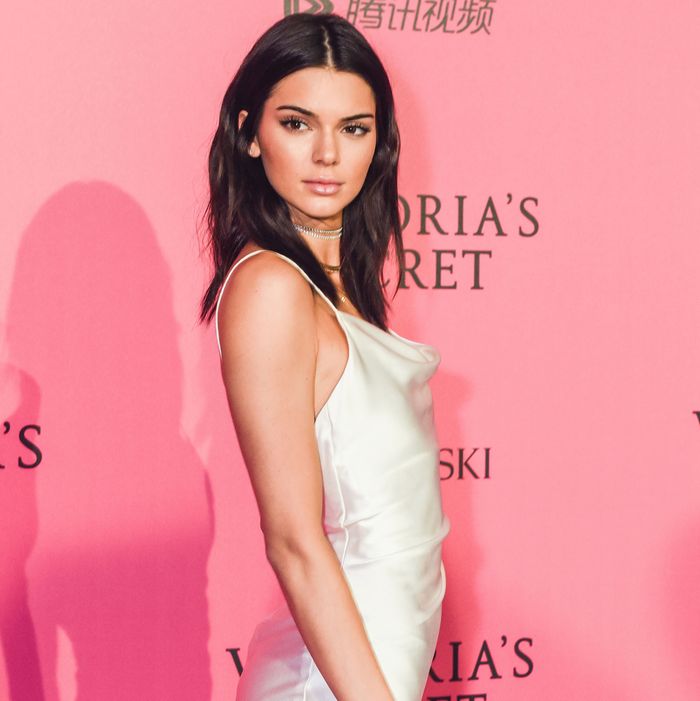 Kendall Jenner.
Photo: Presley Ann/Patrick McMullan via Getty Image
The Kardashian family's resident Victoria's Secret model Kendall Jenner revealed some stunning information about her home and her psyche today on her app (The Kendall Jenner Official App). In a post titled "THE STORY BEHIND MY PINK WALL!" she explained the provenance of the pink wall in the living room of her $6.5 million Los Angeles home, featured in the Instagram below.
According to Jenner, "[T]here's actually a funny story behind the color of my living room!" The story is: Some friends told Jenner about the color "Baker-Miller Pink," and she decided to use it. What's Baker-Miller Pink? Here is Jenner's explanation:
Baker-Miller Pink is the only color scientifically proven to calm you AND suppress your appetite. I was like, "I NEED this color in my house!" I then found someone to paint the room and now I'm loving it!
The research is not quite as definitive as Jenner suggests, but in the 1970s, scientist Alexander Schauss did discover that the color could have a calming effect on prisoners (Baker-Miller Pink is sometimes called "Drunk Tank Pink"). In the 1980s, Johns Hopkins researchers found the color may work as an appetite suppressant. This year, Kendall Jenner discovered that Baker-Miller Pink is a cute color for a wall. She's loving it.