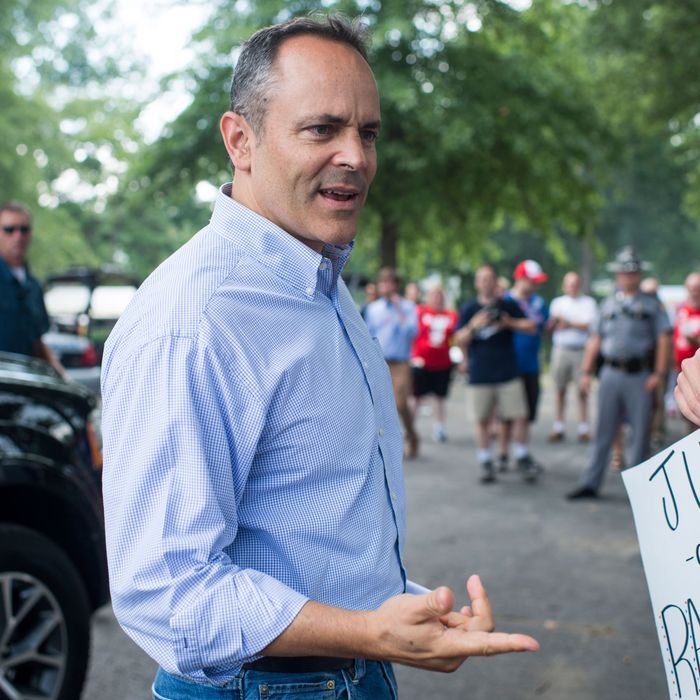 Photo: Bill Clark/CQ-Roll Call,Inc.
The American Civil Liberties Union filed a federal lawsuit on Monday seeking to block one of two bills regarding abortions that were passed in Kentucky. The organization is going after one law that requires abortions providers conduct an ultrasound for a patient and make it a point to display and verbally describe the images to pregnant women. They are also required to try and detect a heartbeat, if possible, though women can ask the volume be turned down or off. Such a legal requirement violates privacy and 1st Amendment rights, the ACLU told the Los Angeles Times. The ACLU is also reviewing a second bill that was signed into law which bans abortions after 20 weeks.
The legal challenge comes immediately after Kentucky governor Matt Bevin, who is pro-life, signed the bills into law on Monday after a rare Saturday legislative meeting when the Kentucky House and Senate passed the two separate bills. The bills have an "emergency clause," meaning they took effect immediately after the governor signed them into law.
The 20-week ban is based on the medically unproven idea that a fetus can feel pain at 20 weeks. Similar to other 20-week bans, such as that in Ohio, there are no exceptions in cases of rape or incest. Roe v. Wade protects the right to an abortion before a fetus is fully viable outside the womb, which is at approximately 24 weeks.
It's been less than a week since all three branches of government were taken over by Republicans.
Update, Jan. 9, 2017 9:01 pm.: This post has been updated to reflect the ACLU's lawsuit concerning the ultrasound law. It was previously updated to reflect that the governor signed two abortion-related bills into law.