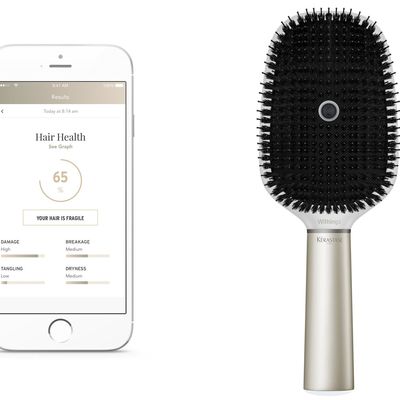 Kerastase and Withings hairbrush.
Hair care isn't for the lily-livered. At the salon, stylists wonder when you had your last trim. "Your ends look bad," they snarl. At the store, conditioners remind you of your hair's depraved state. "For seriously dry and damaged strands," their labels read. The gag is that you pay for this shade, and now there's a new way to shell out money in exchange for hair insults.
Kerastase is teaming up with lifestyle meets tech company Withings to deliver the world's first "smart" hairbrush, the hair-care brand announced in a press release. What appears to be a normal paddle brush with synthetic bristles is actually a hair tool that is totally judging you. A built-in microphone listens as you brush to determine your hair's level of frizziness, dryness, and split ends. "Three-axis load cells" measure the pressure you exert on your hair and scalp as you brush, and sensors count the number and speed of brush strokes, and gauge if hair is being brushed wet or dry.
All of this data is encapsulated in an app, which also combs weather reports to take into account variables like humidity, outdoor temperature, UV, and wind. In return the brush tallies a score to determine your hair's "quality," information on the efficacy of your brush habits, and a list of Kerastase goods to consider, of course.
You'll need to wait until mid 2017 to grab one of the judgey-brushes. It will retail for $200, though getting ridiculed by a machine is an activity that ought to be priceless.