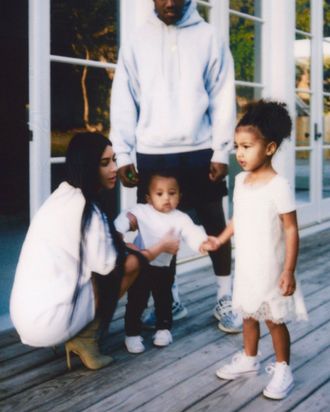 Photo: Courtesy of Twitter/KimKardashian
After being robbed at gunpoint during a trip to Paris, Kim Kardashian abandoned all social media amid speculation that her constant online activity had helped make her into a target. In October, a source told People magazine that Kim Kardashian had "no desire to return to her old life." In November, Kanye suffered some sort of breakdown, and the pair were dogged by rumors of a split. Throughout, Kim's fans were met with deafening silence from her social media feeds, with nary a pouting selfie or dog-filtered-Snapchat to help us weather the final months of 2016.
But on January 3, finally: some movement. Today, Kim returned to her official app for the first time since the robbery, sharing a video montage of herself, Kanye, and the kids, set to Jeremih's "Paradise." Aside from a few quirky moments (like an extended shot of Saint vomiting onto the floor), the video feels more Kennedy than Kardashian in its carefully curated domestic myth-making. "Oh I knew life would be alright, but who could've known it'd be this good?" sings Jeremih, as we cycle through various tableaux of familial bliss: Kanye and Kim slow-dancing; Saint's first steps; North and Kim tubing in the snow; Saint and Kanye cuddling under Christmas lights. Some moments are intimate, others grandiose: A gaggle of fur-clad Kardashians parading into Madison Square Garden; Kim tearing up while watching childhood videos of herself in a packed auditorium, as if watching an in memoriam for herself. "This is more than life, this is paradise," Jeremih croons. (Along with the video, Kim briefly dropped the 'West' from her social media handles — sparking speculation that there might indeed still be trouble in paradise — and then tweeted out a wholesome family portrait with the caption "family").
As her first dispatch since the Great Hiatus, this video serves as an interesting repositioning, one that could potentially herald a new direction for Kim Kardashian as public figure. Kim's persona, carefully constructed though it is, has always been rooted in dynamism, transparency, and excess. One got the feeling that there could never be too much Kontent — that Kim's public face was like an ever-shifting selfie, tilting and pivoting with each change in light. This video feels frozen in time: a nostalgic domestic idyll rather than a living document. Watching the video, I was reminded of a similar grainy home-video montage that played during Beyoncé and Jay Z's On The Run tour in 2014, a perfectly faux-intimate act of self-mythologizing that gave the illusion of closeness without ever revealing too much. Will Kim, too, finally begin her retreat into a Beyoncé-style publicity fortress?
Even for Kim Kardashian, the past few months have demonstrated how hard it is to be a public figure amid so many traumatic ups and downs, to telegraph your grief in real time. It remains to be seen whether we'll ever get the old Kim back. For now, she seems more comfortable giving the world a fairy tale — a little piece of Kamelot — while remaining firmly hidden behind the castle walls.