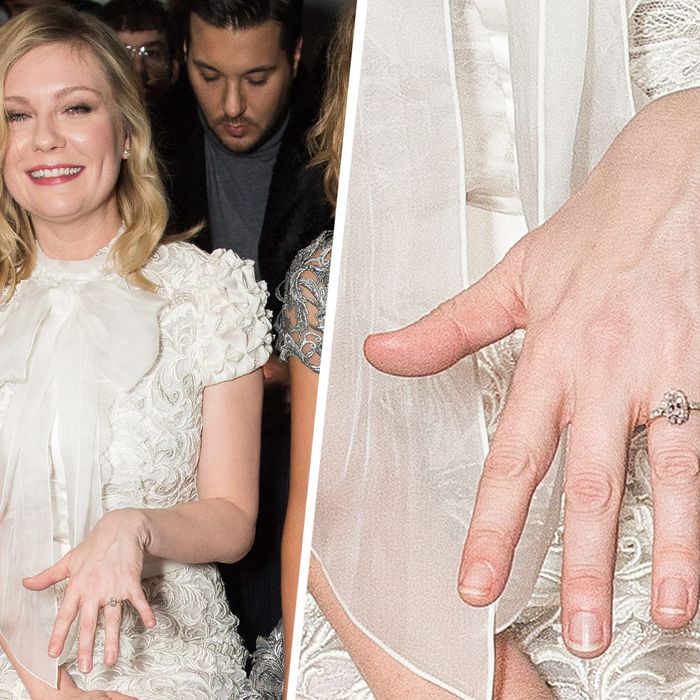 Kirsten Dunst reportedly got engaged to Jesse Plemons, the man better known as Landry from Friday Night Lights, earlier this month. Dunst confirmed the engagement yesterday by showing her yellow-gold, oval diamond ring to a Getty photographer at Paris Haute Couture Fashion Week. Since the reveal, tabloids have been hard at work figuring out the answer to the first question on each and every one of our minds: How much did that ring cost?
According to "Page Six," about $75,000. The gossip site consulted Kristen Trustey, an expert from Forevermark Diamonds, who said Dunst's ring "looks to be 2 carats." That sounds about right — or does it?
Us Weekly interviewed a different diamond expert, Michael O'Connor, who estimated that Dunst's ring is a full 3 carats and probably cost $80,000. He also provided some thoughts about the style: "Oval diamonds are getting a lot of play of late with celebrities. Plus, the mounting is yellow gold, which is also an interesting trend." Interesting, indeed. Now, who are we supposed to believe? Trustey has a dependable-sounding last name, but O'Connor seems to have more information, no offense.
The Cut's own bridal and fashion market editor Lindsay Peoples offered some clarification: The ring is definitely 3 carats, she said, and it probably cost $80,000. "It's quite shiny and radiant," she added, and I definitely agree.
So it's 3 carats for Kirsten Dunst, for the price of a very nice car. Congratulations, as always, to Landry from Friday Night Lights.
Update, 1/26: Kristen Trustey's publicist emailed to provide more context about Trustey's appraisal of Dunst's engagement ring. According the publicist, Trustey originally provided this detailed opinion to Page Six:
"Kirsten's engagement ring looks to be an oval center diamond of approximately 2 carats set in yellow gold. Both the yellow gold setting and baguette side diamonds give the ring a T vintage, heirloom feel. Assuming Jesse chose the best in terms of quality (D color, flawless) the value could be up to $75K."
Now that sounds right to me. And I do assume that Landry chose the best in terms of quality.