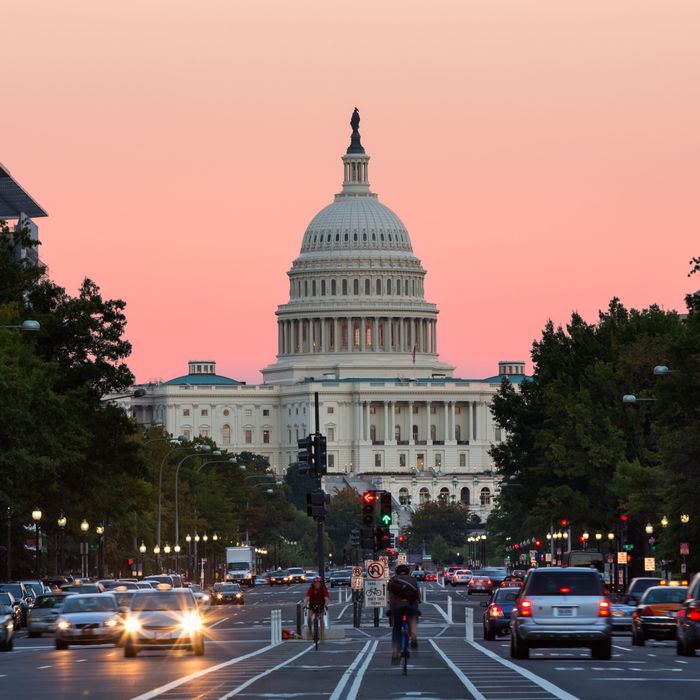 If you're stranded, here are some ways to get to the capital January 21.
Photo: Jon Hicks/Getty Images
According to the travel-booking website Wanderu, bus- and train-ticket sales to Washington, D.C., for inauguration weekend are up more than 900 percent compared to the same time last year. If you didn't plan ahead, you better act fast. Here are some last-minute options to get you to the nation's capital in time to march with the 200,000-plus women expected to demonstrate the day after Donald Trump is sworn in as president.
Use the Women's March bus finder. The official website for the Women's March on Washington has a "bus finder" section where users can find buses driving from their state to the march on inauguration weekend. Whether or not you can snag a ride will depend on where you live: There are 131 buses registered in Maryland and 95 in Virginia, but only one registered in Colorado and comparable numbers in western and southern states. But if you live in the middle of the country or on the East Coast, click on your state for a list of rides, and connect using the "contact" option.
Get a ride from Gloria Steinem. On Tuesday, the feminist icon posted to her Facebook page to let her followers know there are still seats available on a bus organized by elle fin productions. So she's totally driving, right? Right.
Try a ride-sharing service. Ridevu is a website that connects people seeking rides with people offering them. Simply click on the site's "events" page to find rides to the Women's March from your state of origin. Ten people are offering rides from California, five are driving from Arkansas, and at least three are coming from Virginia. Or, if you're driving to the capital and have extra seats, list your trip on the site to give others a chance to tag along. March Match is similar to Ridevu in that it lets users post if they're offering or seeking rides to the march. So far 68 people on the site are offering seats in their car, beds or couches in their home, or seats on buses to D.C.
Join a bike caravan. A group of cycle-happy volunteers is organizing regional bike caravans to the Women's March on the 21st — a safer and more effective option than pedaling to D.C. on your own. Again, this is probably a more realistic choice for those who live on the East Coast. But who says you can't bike from California? Just, you know, start now.
If you've tried everything and you're still stranded, consider attending one of the 600-plus sister marches taking place across the country on January 21. And don't forget your protest sign.
This post will be updated as more options become available.