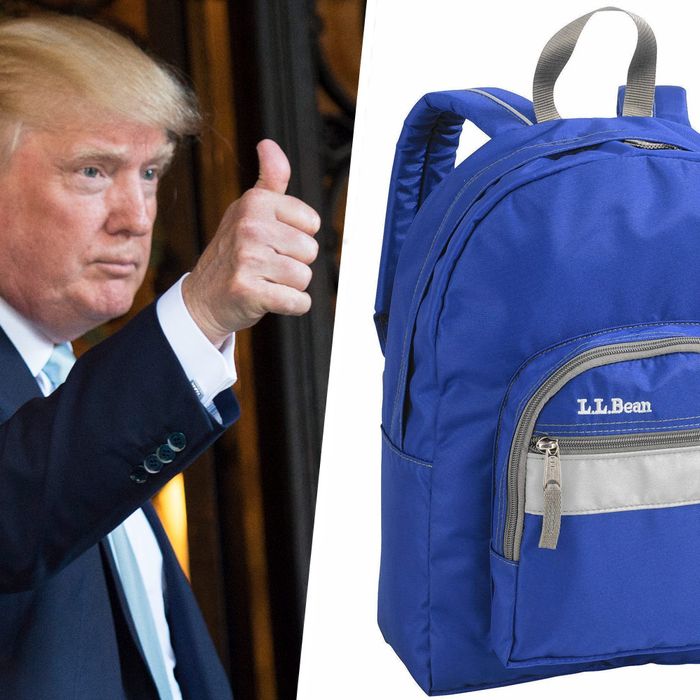 L: Donald Trump, R: A backpack.
Photo: Getty Images, L.L. Bean
On Thursday morning, president-elect Donald Trump tweeted out a message thanking Linda Bean of the L.L. Bean brand for her support and urging his followers to buy L.L. Bean products. He then linked to Linda Bean's lobster restaurant's Twitter feed instead.
Let's unpack this.
First of all, what's L.L. Bean again?
It's a Maine-based activewear and outdoor-gear brand. You may remember them from their ubiquitous monogrammed backpacks: If you grew up in New England, everyone in your elementary and middle school had one. Also the source material for the funny, yet wholly erotic Tumblr, Your LL Bean Boyfriend.
What does L.L. Bean even stand for?
If you guessed "Linda Linda Bean," well, you're actually pretty close. It's short for "Leon Leonwood Bean," who founded the company in 1912. Linda is his granddaughter, and she still has partial ownership of the company and sits on its board; she is often described as "L.L. Bean heiress Linda Bean."
Why was Trump tweeting about L.L. Bean anyway?
Like nearly everything Trump tweets about favorably, Bean directly benefited him in some way — and something tells me he's not strapping into his L.L. Bean boots on the weekend for relaxing and contemplative nature walks. Last week, the Associated Press reported that Bean donated $60,000 to the political action committee Making America Great Again LLC; the limit to individual donations was $5,000. This news sparked calls for a boycott of L.L. Bean, specifically from the #GrabYourWallet movement, which added them to their list of companies to avoid.

How's Linda Bean reacting to this?
On a Fox and Friends segment, Bean said she wouldn't back down and called her detractors "hard-core bullies out on the West Coast." Bean has long been a financial supporter of Republican causes and even ran for Congress twice, unsuccessfully.

What about the rest of the company?
On January 8, executive chairman Steve Gorman posted a message on the company's Facebook page saying they were "disappointed to learn" about the #GrabYourWallet boycott and urging customers to look beyond Linda Bean's actions. Here's a bit of it:
Our owners, employees, and customers hold views and embrace causes that are individual and diverse. We are united by our love for the outdoors and our guiding principles established back in 1912 by Leon Leonwood Bean himself who believed "do unto others" was not just a saying, but a way of life. We fully acknowledge and respect that some may disagree with the political views of a single member of our 10-person board of directors. Like most large families, the more than 50 family member-owners of the business hold views and embrace causes across the political spectrum, just as our employees and customers do. And as every member of the family would agree, no individual alone speaks on behalf of the business or represents the values of the company that L.L. built.

With this in mind, we are deeply troubled by the portrayal of L.L.Bean as a supporter of any political agenda.

How was that message received by #GrabYourWallet?
Shannon Coulter, who co-founded #GrabYourWallet, wasn't buying it.
Wait, so why did Trump link to the lobster restaurant instead of the L.L. Bean Twitter? For a man who spends so much time on Twitter, shouldn't he have a better grasp of the medium?
This is a mystery for the ages.