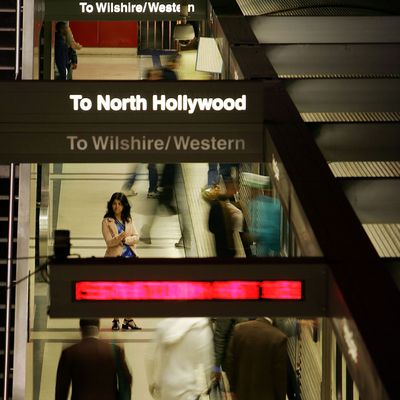 Los Angeles subway.
Photo: David McNew/Getty Images
Many women are far too familiar with being sexually harassed on public transportation in major metropolitan areas. Recognizing this problem, the Los Angeles public transportation system is introducing a 24/7 hotline for its riders to report sexual harassment, Mashable reports.
Public-transportation riders in L.A. will soon be able to call 1-844-Off-Limits (633-5464) if they experience harassment, any day and any time. The L.A. County Metropolitan Transportation Authority is set to become the first in the world to offer such a service to its riders — New York encourages riders to report harassment, but doesn't have a dedicated hotline.
According to the Source, the hotline is a one-year pilot program that will be staffed by counselors from Peace Over Violence, a sexual-abuse community advocacy organization. Anyone who calls the hotline will get to talk to counselors trained to handle issues specifically relating to mass-transit sexual harassment.
"This 24/7 hotline is part of Metro's commitment to keeping the system a safe space for all passengers," Metro board chair John Fasana told the Source. "Launching the round the clock sexual harassment hotline shows that Metro cares about our riders experiences and that we're committed to their safety."
The program isn't L.A.'s first attempt to help safeguard its bus and rail passengers. In April 2015, it launched a campaign to encourage victims and witnesses to report harassment to police. The county also added cell-phone service to its downtown Red/Purple Line stations, in addition to increasing video surveillance and monitoring of the transit system.