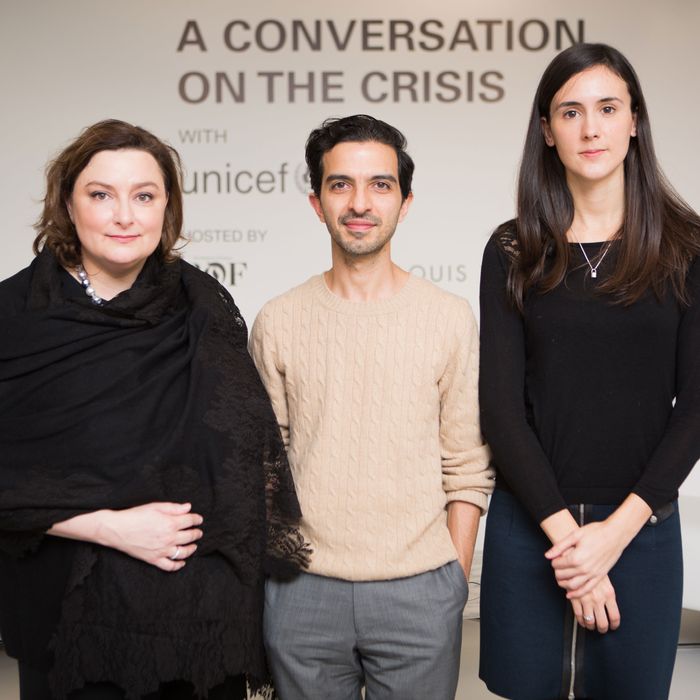 Lisa Szarkowski, Imran Amed, and Claudia Martinuzzi.
Photo: LOUIS VUITTON/BFA.COM - CARL TIMPONE
"This all seems so far away from our glossy world of fashion," admitted Imran Amed, the founder and CEO of Business of Fashion, as he opened a panel on the ongoing crisis in Syria at Louis Vuitton's Fifth Avenue headquarters Thursday night. Considering the building is located not far from the Trump Tower media circus, he noted that it was hard not to be distracted by what he called "the latest tweet or rowdy press conference." Still, Amed and the two other speakers — UNICEF's Lisa Szarkowski and LV's Claudia Martinuzzi — were quick to remind the audience of fashion-industry and media types that there is more going on in the world than just the plight we're facing in our own backyards.

In response to the crisis, Louis Vuitton, which has an ongoing relationship with UNICEF, created a campaign last week called #MakeAPromise, wherein $200 of the proceeds from each sale of its special-edition pendant and necklace designs went to the charity, which is working to help an estimated 2.2 million refugee children. Martinuzzi — who was part of a company delegation that visited Syrian refugee camps in Lebanon last year — talked about the educational training children there are receiving on how to resist and cope with violence. "Having fled Syria doesn't mean that you're necessarily safe," she pointed out. Szarkowski added that refugees have settled as close as New Jersey and are in need of help. Her advice to the industry? "Hire refugees. Seek them out, befriend them."
For those looking for other ways to help, the speakers suggested donating directly to UNICEF's work in Syria or providing coats and blankets to the charity Embrace Relief, which has drop-off locations in New York, D.C., and the Midwest. And UNICEF is always looking for volunteers to get involved, whether that's by acting as a buddy to a refugee child or holding fundraisers. As Szarkowski put it, "These kids … are the ones who have to come back and help rebuild their country. If we don't invest in them, then that's not going to be a resource in the future."