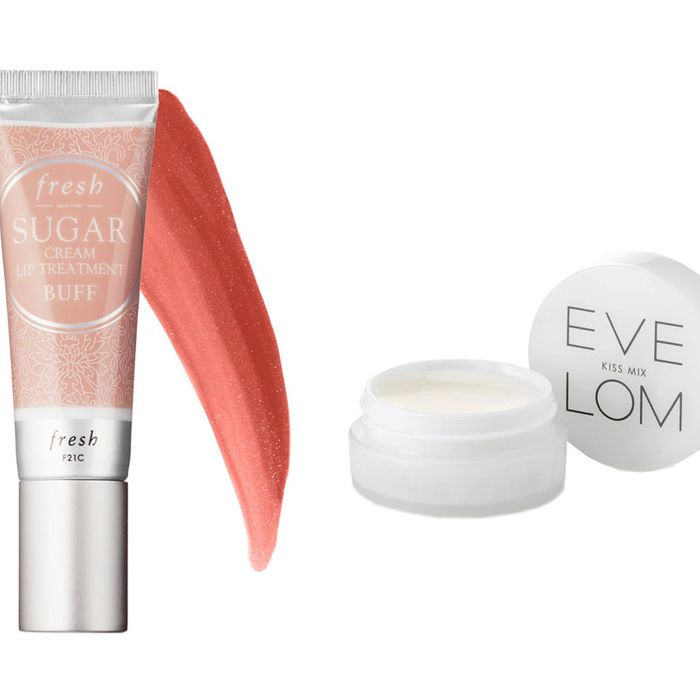 Lip balms from Révive, Fresh, and Eve Lom.
My first post-college job paid so poorly that something as innocuous as lunch from the downstairs Au Bon Pain felt wildly unaffordable. When my bi-weekly pittance hit my bank account, I dreamed of the ways I could spend it if only the bothersome duty of rent, bills, and food didn't always get in the way. One thing that often crossed my mind were Chanel's cotton facial pads. They were (and still are) such a silly thing to own. The $5 drugstore pads work just as well in removing makeup and applying toner. But what Chanel offered was the promise of attainable luxury, and for the palatable price of $20, I went for it with zero regrets.
In many ways, the bougie-lip-balm market renders the same sense of extravagance within reach.
Révive, for example, manufactures one of the most incandescently brilliant moisturizers on the market, but it's 275-flipping-dollars. The brand's lip conditioner on the other hand clocks in at $60, and delivers a slick layer of shine that's akin to M.A.C's cult Lipglass, with the added benefit of moistening dry lips with mango-seed butter and vitamin E.
At $22 Eve Lom's Kiss Mix feels puny to the brand's famous $135 cleanser. A small dab transforms lips into glossy reflectors, and the formula's inclusion of menthol feels cool, literally.
Fresh is already famous for its lip treatments and exfoliants, but the new tinted lip creams are both utilitarian and pretty. I'm drawn to Buff, a nude shade, which is the color of my lips if my lips were shiny and carried the slightly tinge of shimmer. There are also oils in the creams, which usurp any threat of dryness.
I'll say it before you will: Yes, it's possible to buy much cheaper versions of all three of these lip balms. But they won't be luxurious, and sometimes that's the entire point.
Révive intensitè moisturizing lip balm, $60 at Bluemercury.
Eve Lom Kiss Mix, $22 at Dermstore.
Fresh Sugar Cream Lip Treatment, $24 at Sephora.