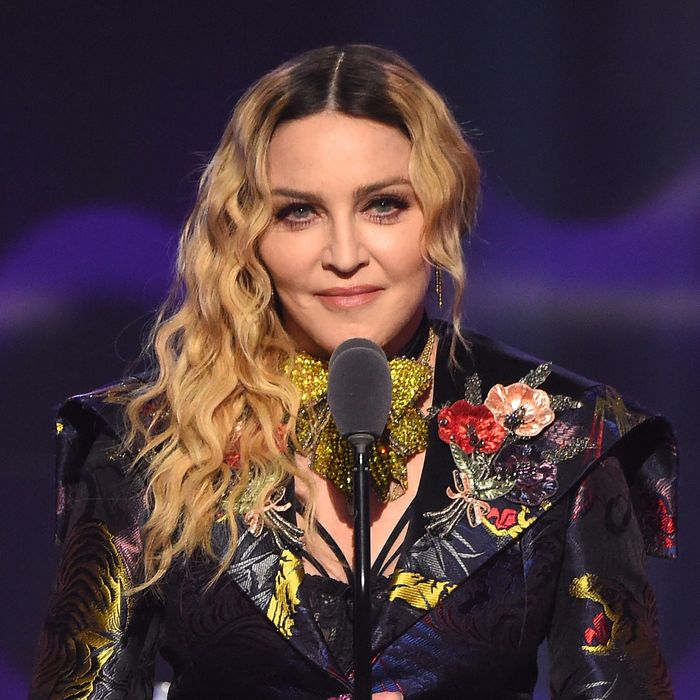 Madonna.
Photo: 2016 Getty Images
In an interview with Roxane Gay for Harper's Bazaar, Madonna talks about her upcoming projects — she's working on a movie called Loved and milling a side career in stand-up comedy — and expresses her frustration with those who question her ongoing need to create.
"That is one of the arguments I would get into with my ex-husband, who used to say to me, 'But why do you have to do this again? Why do you have to make another record? Why do you have to go on tour? Why do you have to make a movie?'" Madge explains. "And I'm like, 'Why do I have to explain myself?' I feel like that's a very sexist thing to say."
Gay points out that "nobody asks men that," and Madge vociferously agrees:
Does somebody ask Steven Spielberg why he's still making movies? Hasn't he had enough success? Hasn't he made enough money? Hasn't he made a name for himself? Did somebody go to Pablo Picasso and say, "Okay, you're 80 years old. Haven't you painted enough paintings?" No. I'm so tired of that question. I just don't understand it. I'll stop doing everything that I do when I don't want to do it anymore. I'll stop when I run out of ideas. I'll stop when you fucking kill me. How about that?
Any more questions?