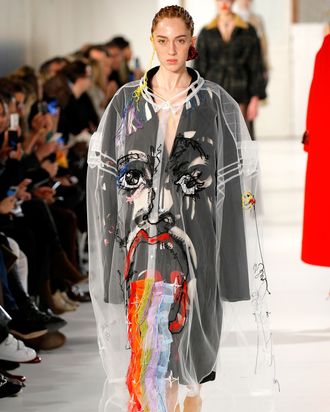 Maison Margiela Artisanal spring 2017.
Photo: Estrop/Getty Images
The notorious puppy filter has already inspired runway makeup, so we shouldn't be too surprised that its weird cousin, the underrated barfing-rainbows filter, got a nod on the Paris couture runway today. Twitter — okay, the particular corner of Twitter that cares about both couture and Snapchat — was abuzz with comparisons between the filter and the tulle over-dress John Galliano showed for his latest Maison Margiela "artisanal" outing, emblazoned with a rainbow-spitting face. (Another look, featuring a more photo-realistic human face, was a collaboration with the artist Benjamin Shine, according to the house's Instagram.)
So are we to believe that Galliano spends his time scrolling through selfie filters? Couture designers truly are just like us.