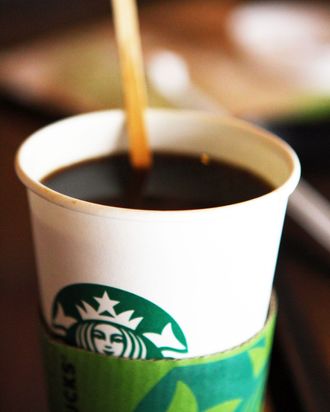 Starbucks.
Photo: Courtesy of Flickr/Daniel Y. Go
It's a love story for the millennial age: 37-year-old man meets Starbucks barista. They "joke" while she takes his order. He writes a note asking her on a date. Except, in this version, the barista is actually only 16 years old, and the man claims he was the victim of age discrimination after he was banned from the Washington state Starbucks for hitting on a teen.
In a Facebook rant, the Spokane man — who was not identified by KREM as he hasn't been charged with a crime — complained that he was treated unfairly for asking out the barista, who is 21 years younger than him. "I was flirted with by a barista. For some reason she thought I was funny. Said I was funny. So I gave her a note to see if she'd be interested in dinner," the man wrote in a Facebook post that has since gone viral. Per KREM:
He said he went into the same Starbucks the next day and a Spokane Police officer told him he was banned from that Starbucks location. Apparently, Starbucks management thought something in the note was inappropriate enough to get the police involved.
But the man believes it was he who was wronged, as he thinks he was discriminated against because of his age and because he was just looking for love.
"I know the female Starbucks barista was of legal age to date. I broke no laws. I merely took a chance with my heart. I'm tired of hearing the word 'creep' as any black person or gay person is tired of hearing certain words. I have a whole webpage dedicated to age gap love," he wrote.
A Starbucks spokesperson said the company approves of how the Spokane location's management handled the situation. "We have no tolerance for any such inappropriate behavior or harassment, and we will continue to support our store partners and local authorities investigating the situation," the spokesman said.
Ah, romance.