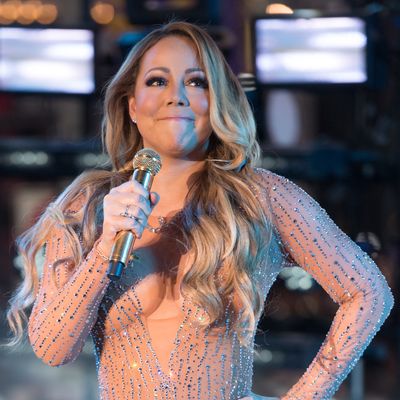 Photo: Noam Galai/FilmMagic
Mariah Carey experienced some technical difficulties during her performance on Dick Clark's New Year's Rockin' Eve With Ryan Seacrest, but a few minor details don't get a diva down. After a Times Square performance riddled with musical snafus, Queen Mimi tweeted a GIF of herself shrugging and a message for 2017 we can all take to heart.
Some key Carey quotes from the performance include:
"Well, Happy New Year. We can't hear, but … "
"All right, we didn't have a check for this song, so we'll just say it went to number one, and that's what it is. Okay. We're missing some of these vocals, but it is what it is. I'm just going to let the audience sing, okay?"
"We didn't have a sound check for this New Year's, baby. It's okay, you guys."
"Alright, just for laughs, do the lift."
"I want a holiday too. Can I now have one? I'm trying to be a good sport here."
"That was … amazing."
Oh, to be a fly on the wall of the green room after she left the stage. Someone is probably not having a very nice New Year's Day, but rest assured, it isn't Mariah.