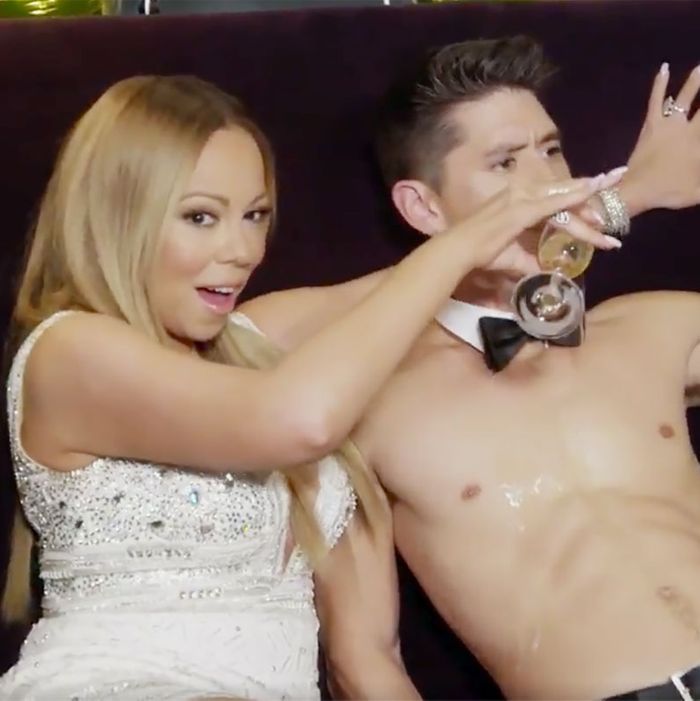 Mariah Carey in Mariah's World, enjoying her nighttime party.
Photo: Courtesy of E! Entertainment
After a holiday hiatus and a 2017-vibe-defining New Year's Eve performance, Mariah Carey is back in her iconic television docuseries Mariah's World. With a new year, a new format: This episode actually focused on Mariah Carey herself, instead of her civilian staff #NewYearNewMeNewFocus.
Though the opening scene was filmed in March, we're ushered into 2017 with a poorly done montage of Mariah, her children, her staff, and her dancers, singing Mariah Carey Christmas music on her private minivan jet. There's even fake snow, bubbles, and uncomfortable-looking clips of Bryan Tanaka playing with Mariah's kids and treating them like they're his own. The Christmas party is headed to Copenhagen, the next stop on Mariah's tour.
In Denmark, Mariah catches up with Lee Daniels. They giggle closely, reminding each other how they got their start as friends and professional partners. Lee Daniels must have found some time — between overseeing Empire and telling black actors to "stop complaining" — for sit-down confessionals for Mariah's show. Lee explains that he and Mariah are both severely damaged from having difficult living and working conditions as young people. He admits that, like others, he has ways of coping with his past, and he thinks Mariah copes with hers by maintaining her over-the-top personality.
While Mariah is cutting up with Lee Daniels, unfortunate assistant Molly sets up an Easter/Mariah anniversary party. The two holidays land on the same day, so Molly wants it to be perfect for Mariah and her kids. Not only does Molly hide Easter eggs around the restaurant, but she also got an Easter-bunny costume and was prepared to dive deeper into character than Charlize Theron in Monster. Sadly, while in costume, Molly is pulled over by a producer who asks her to remove it before Mariah's arrival, as Mariah and Stella have decided to forgo the party's live entertainment.
Everyone seems to enjoy themselves, especially Mariah, who is in a sequined white minidress and oversize white fur for the resurrection of Jesus Christ, our Lord and savior. She enjoys herself even more when she prank-calls Molly, who is out on a food run. Mariah really wanted mozzarella sticks, so she calls Molly as "Pamela," demands these be added to the food order, and asks Molly what she's wearing. Molly is confused and slightly terrified, but complies. On the other end of the phone, Mariah is surrounded by her friends and glam squad, who are laughing their little tails off. Molly is giddy, too, once she realizes Mariah Carey has prank-called her. Her giddiness is contagious and devastating because I can't personally conceive of a world where her happiness does not end in doom and destruction.
The daytime party was mainly for the kids, and Mariah has a more "adult" event that evening. This party's main entertainment is dancer and notorious "Mr. Steal Your Diva" Bryan Tanaka. Bryan is eager to please Mariah. He has it in his brain that this cake dance will revitalize their friendship and draw them closer. Wouldn't you know that he was right! After he gyrates in the air to surprise her, Mariah brings him to her side so she can properly pour a glass of Champagne on his shirtless chest. Still sticky from the expensive booze dripping down his abs, Bryan sneaks some conversation in. She obliges. Sometimes she responds to him by looking at his face, and other times she looks directly into the camera. The conversation is really just a string of pleasantries, but others at the party look on as though the two are dry-humping one another while Mariah screams, "I'M ENGAGED TO A DIFFERENT MAN!!!"
Unfortunately, everything goes downhill after Mariah's anniversary celebration. Both of Stella's kids are sick, and she can't find Molly. Stella seems to think that Molly is her personal assistant, though I remember her being hired as a tour assistant, paid to support those working on the tour and not Stella's personal brand. But, because Stella was born, continues to live, and perhaps will die a monster, she is enraged that Molly isn't around to help her take care of her kids.
Molly is struggling. She tells the camera that she doesn't have a moment to herself to eat or sleep. She's excited about the job, but wishes she could take it all in. Then, early one morning, she heads out to a European tattoo parlor to get a tattoo of a "globe emoji" on her finger. Later that day on the tour bus, Stella confronts Molly about not nursing her kids back to health. While Molly silently cries, Stella asks Molly what she wants to be when she grows up and Molly says, "A mother!" Stella just can't and turns away from Molly, fuming at the young girl's honesty.
Because this show has no idea how to transition properly between scenes, we're left with a montage of fans praising Mariah. We also see her receive a diamond-cross necklace from an adoring fan who learned English through her songs. After this, we get more Stella and Molly.
The two talk alone with one another, and Stella basically fires Molly. Stella never outright says the words "you're fired," but she urges Molly to leave and find a new path in life. Molly, through tears, very bravely asks Stella to fire her outright, and refuses to leave unless she hears those words. Gloves are required when handling this relationship, because it is toxic. Following her conversation with Molly, Stella catches Mariah up on the drama. Mariah agrees that Molly wasn't a great fit, though she obviously only knows Stella's side of the story. Wow, I guess I'm #TeamMolly.
Join me next week for more Almost Mariah's World. Will Molly be back? Will Mariah find that Stella cut some wires before her NYE performance? Only time will tell. See you in a week, beloveds.