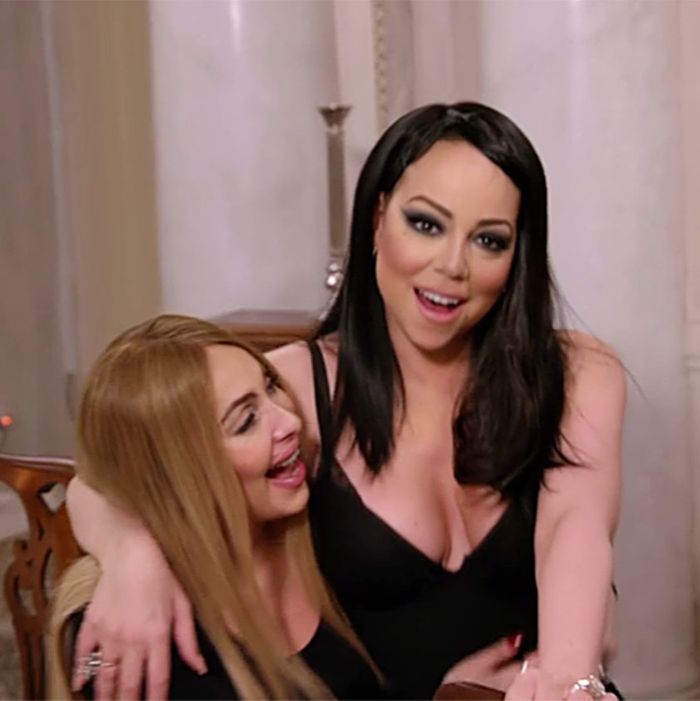 Mariah Carey as Bianca on Mariah's World.
Photo: Courtesy of E! Entertainment
This week's episode of E!'s docuseries Mariah's World, which follows the life of Dick Clark Productions victim Mariah Carey, focused on the star's budding relationship with her dancer Bryan Tanaka. Each previous episode teased an emotional connection between the two (who are currently dating now), but last night we were taken to the next level. This level includes wigs, pizza, wine, Italian sunrises, and bodily harm.
Mariah and her crew start the episode in Stockholm, Sweden, where she's forced to take her shoes off to enter a children's gym with her kids and staff. Because she's Mariah Carey, she makes sure to walk on her tiptoes through slides and bounce houses, as though she wears invisible heels.
After having some fun and quality time with her children, Mariah introduces her friend Josefin to the camera. Back when Mariah and Josefin were starting out in New York City, the two lived in broken-down apartments and Josefin got young Mariah waitressing jobs. The friendship seems genuine, and has shaved five years off of Stella's life. Stella lurks in the shadows as the decades-long pals reminisce about the old days, emotionally threatened by their friendship. She waits for a moment to bob in with her stringy head of hair and ask about budget cuts.
It's been recently reported that Mariah's creative director and choreographer Anthony has been fired due to Mariah's New Year's Eve embarrassment, but in this episode Anthony is just a dancer looking to get some bonding time with his boss. He parties with the dancers and invites Mariah to join; at first, Mariah calls the company he's keeping "bleak" but ultimately decides to clink her glass with theirs and flirt a bit with Bryan Tanaka. In lingerie and a pink silk robe, she lip-synchs her own music to him. It's chilling and bizarre, but fits the moment.
Bryan is shook by Mariah's sensuality and has to release himself from her musical clutches. He tells her he's blushing and finds a seat across the room.
The following morning, Bryan rehearses with a fellow dancer. In their private rehearsal he admits that he's "catching hard feelings" for Mariah. This dancer tells him to slow down because she's, you know, their boss and engaged, but admits that their connection could be real. Bryan agrees.
Because there's no relief from Bryan and his story line, he celebrates a birthday on tour. It's unclear if this has happened for any other dancer, but there's a party thrown for him. Mariah attends and pours Champagne on him again — this time, he's fully clothed. Bryan also gets gifts from his dancers: a bottle of alcohol shaped like a penis, as well as full-frontal exposure from another male dancer.
Mariah's happy she could make Bryan's birthday special, and she wants to go a step further by inviting Bryan and the other dancers to stay in an Airbnb mansion with her in Lake Como, Italy. En route to Italy, a producer asks a drunk Bryan Tanaka about Mariah. He says that he thinks she looks great, but can't tell her to her face because she's "just a friend," and takes a swig from a Champagne bottle and giggles.
When Mariah and her team reach the Lake Como house at 11 p.m. they continue drinking until about 5 a.m., when they watch the sunrise together. The dancers also take part in picking up Mariah and twirling her around. One dancer describes Mariah as being in the "pick me up and put me down" phase.
Sensing she's not getting enough screen time, Stella steals a cameraman and Mariah's glam team, Danielle and Kristopher, to talk about Mariah and Bryan's relationship. They agree that Bryan is overstepping, but no one wants to tell Mariah to stop interacting with him. The group fears that if she focuses on making her relationship with Bryan seem 100 percent platonic, she'll lose focus on the tour.
The next night, Mariah hosts a Mariah Carey-oke event where everyone is to dress like her and sing her songs. But, because she is Mariah, Mariah comes dressed as Bianca. Tonight, Bianca is wearing fishnets and an assless bodysuit. Bryan likes this very much, especially when he drags his hands across her behind as she walks past him. After stroking the behind of his engaged boss, Bryan gets his comeuppance: He lifts Mariah and injures his knee. This is not shown onscreen, but a faint "ohhhhh" is heard off-camera.
Bryan heads to the hospital alone, only his camera phone along to capture the moment. Doctors believe that he has a torn ACL, and needs at least ten days off. Bryan, surrounded by dancers, cries into their arms, worried he's let people down. Perhaps he's also worried he'll have to leave Europe without having sex with Mariah Carey. After seeing him on crutches, Stella expresses sympathy; in the same breath, she plans to release him from the tour. Part of Stella thinks this is a blessing in disguise: With Bryan gone, she won't have to worry about the appropriateness of his relationship with Mariah.
While Stella thinks about her plan, Anthony reconfigures the concert, taking into account that they'll be down a dancer. The show goes off without a hitch, which pleases Mariah. She is sad about Bryan, though. Back at home, she visits the injured dancer and rubs his elevated leg.
That night is the crew's final one in the Lake Como house, and Bryan's last night on tour. The evening has a somber feel, but produced one of the most iconic moments of 2016, and that's Mariah Carey making pizza in white lingerie! Mariah understands that people may not "get" her cooking look, but spells it out for the haters — she doesn't come into anyone else's home and judge the clothes they cook in. Well, say it a little bit louder for the congregation in the back, Mimi!
After cooking pizza, and seeing Bryan interact with her kids, Mariah pulls Stella aside and asks her to keep him. Mariah feels that it's her responsibility to support him since he injured himself on her tour. To her face, Stella calls Mariah "charitable"; when alone with a camera, Stella calls this a "recipe for disaster."
With only a few more episodes left, it's unclear if Mariah will step out on her finacé with Bryan, if Stella will finally say the wrong thing to Mariah and get fired, or if Molly will return. One thing I know for sure is that nothing will be staged or manufactured for a story line. Until next week, Lambs.