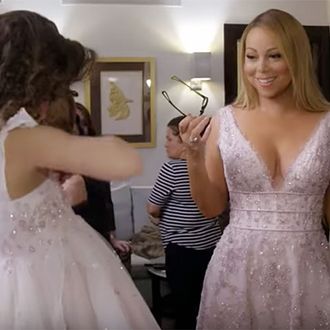 Mariah Carey in a scene from Mariah's World.
Photo: Courtesy of E! Entertainment
As documented in last week's hour of Mariah Carey's docuseries, her favorite dancer, Bryan, is on the mend from a dance-related knee injury. Instead of sending him home to heal, Mariah has decided to keep him around to hang out with them in Italy and for the rest of the tour. These hangouts include him trying on a white lamb costume for manager Stella and her children. Bryan hobbles his injured body into the semi-sheer white animal suit, as Stella's kids make note of what's settling into the center seam (from our point of view, a blurred genital region).
After Bryan shows a perplexed Mariah his look, Mariah releases him from her glam room and takes Anthony, her choreographer, dancer, and creative director, as a visitor. Anthony seems agitated. Scrolling through Instagram, he couldn't help but become verklempt over a post on Mariah's page. The photo in question highlights Mariah's behind, doesn't show Mariah's face, and looks more like a wardrobe malfunction than a staged photo op. He thinks the cheeky photo may have something to do with Stella's 12-year-old daughter, Mishka, running her social-media channels — and that it could upset her fiancé, juggernaut-looking billionaire James Packer. Mariah doesn't think James cares about what she posts online, but does wonder if having a tween run her Instagram is a wise idea.
Later in the episode, Mariah confronts Mishka about her photo choice, and the 12-year-old defends her post. She tells Mariah she can't help it if her boss has a great "ass." Mishka also asks why Mariah doesn't wear lingerie as clothes more often. Our Father, which art in heaven, Hallowed be thy name. Thy kingdom come. Thy will be done on Earth, as it is in heaven, take this wretched child OFF OF MY TV SCREEN AND PUT HER IN A CLASSROOM. We also ask that you show us her worker's permit. Amen.
It's time for the show, and Mariah's dancers finally seem settled into their new routine as a five-top, instead of the former six-top with Bryan. That holds true until one more dancer, Joe, injures himself onstage and is sent to the hospital for a broken ankle. On her way to her private jet post-show, Mariah wonders if her crew is breaking and if the show can go on with so many people out. She suggests that Anthony simplify the show and routines to accommodate four dancers. Anthony refuses, and tells Mariah she needs to trust that he'll find dancers in their next city, Paris, France, who are capable of learning her full show choreography in two days. Like someone who has a 12-year-old (who's presumably taking a leave of absence from school) post photos online on her behalf, Mariah agrees to keep the show the same but with new talent.
In flight, Mariah lounges on her bed while getting her look touched up by makeup artist Kris. When she's good and ready with her post-show glam, she summons Bryan to her part of the plane so she can fix his hair. Mariah runs her fingers through the young man's locks, and then sits on his lap while his hand rests on the small of her back. Looking at one another as though they're alone, everyone else onboard refocuses their eyes, pretending they can't see bad choices.
Once in Mariah's Paris hotel, Stella visits the singer to talk some real girl talk. Mariah samples her M.A.C cosmetics line, and Stella samples her boundaries with Mariah as she asks about her feelings toward Bryan. Mariah smirks, pretending not to know a thing about their flirty connection. So, Stella literally spells it out. She takes one of Mariah's tester lipsticks, and on the hotel room's white duvet, Stella writes, "TANAKA <3's MIMI." Even Mariah looks baffled, and tells Stella that someone's going to have to clean that up. Stella keeps drawing hearts.
After her chat with Stella, Mariah mingles with the dancers. Everyone's making fun of Bryan because his luggage has been lost and he's been wearing the same outfit for days. Because it's Paris and Bryan has no clothes, Mariah takes her team shopping at Balmain. Whether it's on his own accord or a mandate by his boss and crush, Mariah Carey, Bryan chooses to wear simply a robe and slippers for the outing.
Now, unless Stella is paying these dancers Kardashian coins, I'm going to bet that Mariah paid for her sugar baby's new mini-wardrobe. For Mariah, he tries on T-shirts, jeans, and leather jackets. Everyone seems happy, supping on the burgeoning taste of Mariah's engagement being broken as she helps an injured man decide between a tiger-print jacket and a black leather hoodie-jacket combo.
After a day of shopping, Mariah invites her dancers, Bryan included, to observe her final wedding-dress fitting. Mariah twirls around in her custom gown, helps her daughter Monroe try on her custom dress, and ignores Bryan's red face as he fights back tears. In his confessionals, Bryan gets choked up and pretends to realize that watching Mariah in her wedding dress really solidified the fact that she's engaged. As he talks about her getting married to another man, he tells the camera that this "fucking sucks."
Bryan's emotions are compounded by the arrival of Mariah's fiancé, James Packer, to Paris. He comes to celebrate Stella's birthday, which is weird and creepy. At Stella's birthday dinner, Stella doesn't clock out and makes sure to seat Mariah's actual fiancé and work-fiancé, Bryan, tables away from one another. Mariah sits intimately with her fiancé and Stella, while Bryan is halfway across the restaurant with the dancers and glam team. Stella's arrangement makes it clear she's part of the "upstairs" group, while the others are part of the "downstairs" group. After Stella avoids burning her synthetic hair on birthday-cake sparklers, everyone disperses. Mariah hangs with her fiancé, and the dancers practice the show with the newbies recently hired by Anthony.
The next day, having prepared dancers who can carry her across the stage is the least of Mariah's concerns after she learns of Prince's death. Stella tells the camera that Mariah has been crying all day, with no signs of stopping. In true Mariah fashion, she does make the show. A bit late, but she makes it. Onstage she tells the audience that Prince was a dear friend who helped her during some of the most trying times of her life, so she doesn't want to make the occasion bleak. Instead, she asks for the audience to observe a moment of silence for him before they get to celebrating his life. Mariah also dedicates "Hero" to him. For the first time in the history of this docuseries we're shown Mariah singing a full song from her show.
Unfortunately, though, it's obvious that this version of the song was not from the night she dedicated it to Prince. On that evening her hair was parted in the middle with thick waves — we see her singing "Hero" with a deep swoop part and soft waves.
Post-show, Mariah has to honor a commitment to promote the launch of her new vodka line, VDKA 6100. James is there, and the couple is very touchy-feely, which makes Bryan uncomfortable. He tells the camera that this is a big reality check and lets some air out of his love balloon. The episode ends with James slowly sliding his hand down Mariah's backside. Seems like a great Instagram photo op; someone call Mishka!
Check out this space next week for the penultimate recap of Mariah's World. Will Bryan make it to the finish line, or will he break every bone in his body until Mariah is forced to carry him on her back in a Balmain baby carrier? Only time will tell.