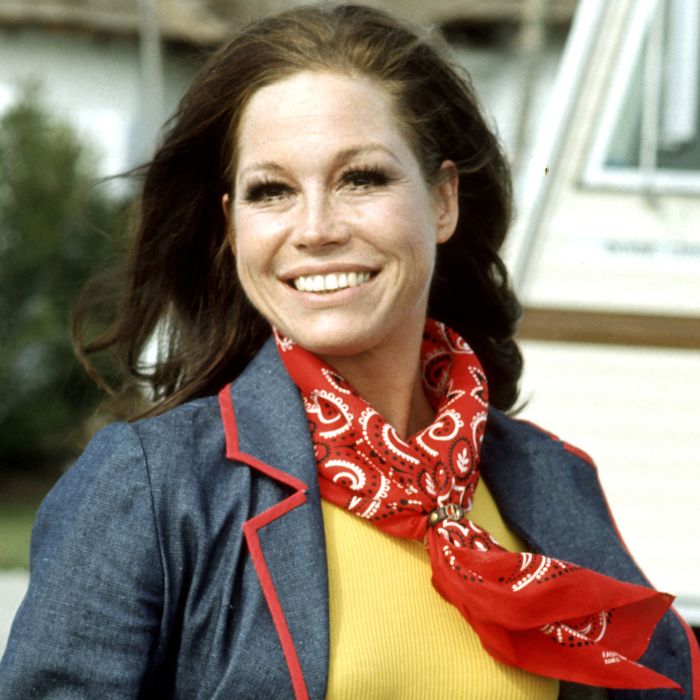 She had optimism, grit, independence and glamour.
Photo: Ron Galella/WireImage/Getty Images
My favorite part of The Mary Tyler Moore show was the opening montage. It was like a fashion show disguised as a mini movie. There's Mary in a brown turtleneck, white pants, white shoes, and a white cloche, carrying a bag of groceries. She daydreams a little as she walks in a yellow plaid pantsuit. She crosses the street in a black, gold-buttoned coat and a knitted tam. Like many girls who grew up glued to the TV, I fantasized about moving to some booming metropolis so I could have a career of my own and a closetful of excellent, precise clothes, just like Mary Richards did.
I remember when one of Mary's boyfriends — an auditor, a lawyer, a newspaper reporter, none of them worthy of her — popped his head into her walk-in closet and called her a clotheshorse. He meant it derisively, of course, but, having never heard the term, I thought it was the highest of high praise. I wanted to be a clotheshorse, too, like the best-dressed woman in my life.
She was the Jackie Kennedy Onassis of Minneapolis-St. Paul. The similarity started with the big, emphatic hairstyle. Unlike Jackie's, though, Mary's hairdo wasn't a form of armor. It actually bounced. In the early episodes, Mary's hair formed an S on each side of her head. It smiled.
Over the years, her hair became more subdued, shorter and less eager to please. Her makeup — coral-pink lips, bronze blush, brown or gray eye shadow — predated the natural look by several decades. But her liquid eyeliner and thick mascara were exceptions. On another woman, they could have looked vampy. On Mary, they were just right.
Her wardrobe also resembled Jackie Onassis's in the Ron Galella–paparazzi era, and they both had the lean bodies, long arms and necks that showed clothes at their best. They shared ribbed turtlenecks, silk scarves knotted at the neck, trench coats, and shearling jackets. Mary's clothes clung to her curves but never sent the wrong message. They were sexy but not sexual. They were also work clothes, but they didn't parrot a man's uniform; she wore her blazers unbuttoned with a rangy ease.
Isaac Mizrahi designed a whole collection in the mid-1990s inspired by The Mary Tyler Moore Show. He showed flared pantsuits, A-line skirts, and dresses that were narrow through the rib cage, he said. "And giant glasses! I killed myself trying to get those giant frame glasses like Rhoda's." When we started talking about Mary, Mizrahi warned me that he might cry. And then he cried. "She was such a part of my childhood," he explained.
Mary wore her clothes as if she owned them, mixing and matching and repeating outfits. "Her clothes weren't overwhelming," said Mizrahi. "She was the mistress of all her dresses and pantsuits, and she was always able to run in her shoes. It makes me sad that today, all those girls on those shows, all those Housewives, change their clothes every five minutes. Real style isn't changing your clothes and borrowing clothes all the time."
The show — and its bright, beaming, occasionally anxious star — meant so much more than its pretty image. Mary Richards was hope. She was an example of what a good attitude and extra effort could achieve. "Mary made us proud as Americans and of American style," Mizrahi said. "On a molecular level, she spoke to a kind a feminism that's almost gone. It was so beautifully integrated into the character and into the show, without any rancor or protest."
The meaning of Mary comes back to that opening montage: Both it and she are filled with optimism, grit, independence, and glamour. She made us believe that love is all around.