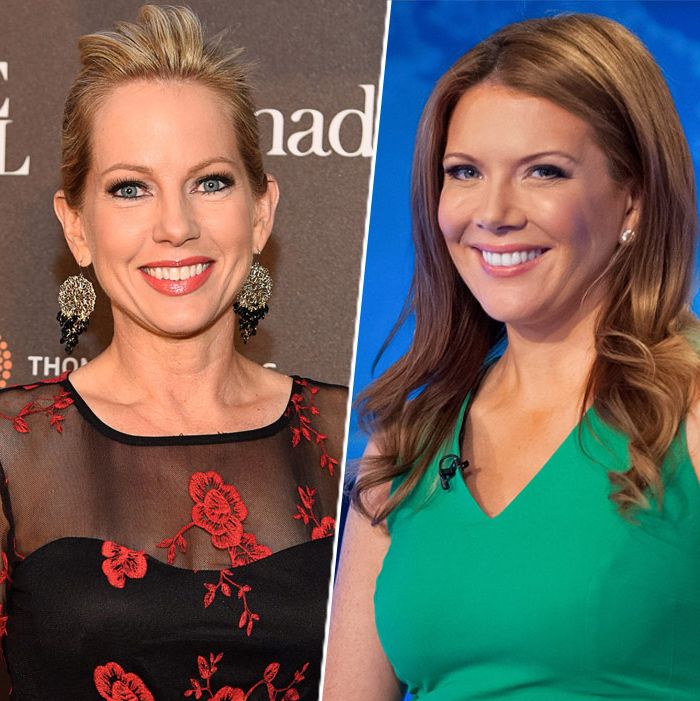 Sandra Smith, Shannon Bream, and Trish Regan are three of the five women in talks for Kelly's slot at Fox.
Photo: Getty Images.
Update [1/5/17, 3 p.m.]: On Thursday, Fox News announced that Tucker Carlson would take Megyn Kelly's 9 p.m. prime-time slot; Martha MacCallum will anchor a 7 p.m. show called The First 100 Days.
On Tuesday, news broke that Megyn Kelly — Fox News' star Trump-sparring anchor — will leave the network when her contract ends to fill a "broad new role" at NBC. That role will reportedly include hosting her own daytime Oprah-style show, launching a Sunday-night news magazine, and contributing to the network's political coverage. But her absence leaves a prime-time slot open at Fox, and speculation abounds as to who will take Kelly's place.
According to New York's Gabriel Sherman, it's almost certain the Murdochs will replace Kelly's 9 p.m. time slot with a woman, lest they risk a prime-time schedule without a single female host. And that woman will almost certainly be a pro-Trump conservative, signaling Fox's desire to align itself with the new administration. Fox insiders reported that at least five women are under consideration to fill the slot: Trish Regan, Shannon Bream, Sandra Smith, Martha MacCallum, and Kimberly Guilfoyle. All five are current Fox anchors, but for those of us who aren't dedicated viewers, here's where each stands on the issues.
Trish Regan
Politics: Regan, who hosted shows on CNBC and Bloomberg before she became a Fox host, told the Hill in November, that she "grew up in New Hampshire, a state that's live free or die, and I believe in limited government." But she scolded a Fox guest on air for calling her a Republican, countering that she's an independent and she "see[s] both sides, unlike many members of the media these days." She's no fan of Hillary Clinton, and judging by her commentary on North Carolina's bathroom law, she's pretty conservative when it comes to social issues, too.
Best known for: Hosting The Intelligence Report With Trish Regan on the Fox Business Network. Throughout her career she's focused primarily on finance and business reporting, and she was half of the first all-female duo to moderate a presidential debate.
Why she'd make a good replacement: Regan has regularly filled in for Kelly on The Kelly File, so the woman knows what she's doing. And according to Business Insider, she was personally groomed by Roger Ailes to act as Kelly's replacement.
Shannon Bream
Politics: Bream hasn't spoken openly about her political views, but they seem to be in line with those of most Fox anchors: She's critical of Hillary Clinton, and her priorities are similar to those of the president-elect.
Best known for: Serving as Fox News' Supreme Court correspondent. She's also given multiple interviews about getting a late start in the broadcast field and even getting fired early on.
Why she'd make a good replacement: Bream has also filled in for Kelly on The Kelly File, and she occasionally serves as a substitute anchor on Special Report With Bret Baier and Fox News Sunday.
Sandra Smith
Politics: Smith, who co-hosts Fox's Outnumbered and who appears on Hannity every Wednesday, initially specialized in business (she got her start reporting equities and derivatives markets for Bloomberg), which means she doesn't do much by way of political commentary. But on an episode of Outnumbered that aired in August, Smith wondered out loud whether liberals were shuttering free speech. "Is there just no open discourse?" she said. "Can you just not have a conversation on a college campus anymore without someone being offended or having to delete a Facebook post where someone shares their opinion?"
Best known for: Co-hosting Outnumbered, in which four female panelists sit down with a rotating male guest. She was the second half of the first all-female duo to moderate a presidential debate. And she vocally defended former Fox News chairman Roger Ailes against allegations of sexual harassment, saying, "If I ever felt like I was working in a hostile environment, I wouldn't be here."
Why she'd make a good replacement: Smith filled in for Kelly on The Kelly File last week, and Fox's ratings were still through the roof; it seems likely she could pull off a smooth transition.
Martha MacCallum
Politics: MacCallum looks at the Trump administration with a relatively critical eye, but she isn't a fan of the Obama administration either, as indicated by her recent tweets.
She also calls Bernie Sanders supporters "the safe-space kids," so there's that.
Best known for: MacCallum has been around the block as far as broadcast is concerned; she's worked various jobs at NBC, has anchored shows on CNBC, and contributes to MSNBC's The News With Brian Williams. She currently co-anchors America's Newsroom and co-moderated two presidential debates this election cycle. She was also one of the Fox anchors who defended Ailes, saying, "I have had a great personal and professional relationship with Roger. He's always been very open. We've had a lot of great one-on-one conversations."
Why she'd make a good replacement: She has years of experience, and a huge and devoted following; she's also filled in for Kelly in the past.
Kimberly Guilfoyle
Politics: Guilfoyle's political stance is pretty self-evident, considering she was a contender for the position of press secretary in Trump's White House. She said she's known Ivanka and Melania Trump for ten years and has a friendly relationship with Steve Bannon, Trump's pick for chief strategist.
Best known for: Hosting The Five, an hour-long talk show that airs every day at 5 p.m. She also serves as a legal analyst for Fox and appears on a number of its programs in that capacity. Oh, and she covered the Time Square ball drop for Fox this year, so her face might look familiar. She was yet another female anchor who stood up for Ailes, giving Breitbart an exclusive interview about how Ailes is "a champion of women."
Why she'd make a good replacement: Greta Van Susteren personally recommended Guilfoyle to replace Kelly because "viewers and colleagues love her," which is pretty high praise.